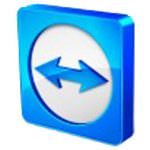 I did something yesterday that I never did before in all my years of fixing computers– I connected to a computer to fix it remotely. A guy whose computer I was trying to fix asked me to do it.
Even though I have never used it, I was going to use Windows built in Remote Desktop Connection, but instead decided to use TeamViewer. I've had this installed for a while now, and used it once to test it out by accessing another computer on my network.
I think TeamViewer makes it easier and more straight-forward for customers to connect.
Of course, you need it installed on your computer, as well. Run it and you'll see Your ID and Password. This is what you would give someone if you wanted them to control your system.
To get control of their system you need to look at the Control Remote Computer area and type in their Partner ID, the ID number that is showing on their version. Then, click on Connect to partner button. Put in their password and it's that simple.
You should now be looking at their screen and controlling it remotely.
When finished, there is a bar across the top. Just find and click on the option to End Session.
—