Out with the old in the with new. No sooner has Google decided to abandon Google Reader, its popular RSS feed reader, than we hear of a new service on offer from the internet giant. The net has been abuzz with news of Google's new online sticky notes app simply called 'Keep', with many pundits predicting this new service is set to take on the excellent and popular Evernote. Well my friends, I think you'll find those claims may not only be a tad premature but, at this time anyway, somewhat exaggerated.
Evernote, arguably the leader in its genre, is a mature full-featured app. Whereas Google Keep, while in its infancy, offers little more than the basics. That's not to say the situation is not subject to change; if Google continues to add features and enhance its new app, which is almost certain to be the case, then Keep may indeed eventually compare favorably with Evernote.

At this stage Google Keep provides a simple, convenient note-taker with the main emphasis on Android. Keep's obvious major advantage is its integration with Google Drive. This ensures that all mobile notes are synced through the cloud automatically and can be accessed from any device (desktop or mobile) which has an active Internet connection… the sort of integration which is both convenient and reliable. And I doubt Google will be stopping there… expect to see other Google services eventually integrated with Keep.
In a recent blog announcement, Google software engineer Katherine Kuan had this to say regarding Google Keep:
With Keep you can quickly jot ideas down when you think of them and even include checklists and photos to keep track of what's important to you. Your notes are safely stored in Google Drive and synced to all your devices so you can always have them at hand.
Google keep provides facilities to create checklists, add photos and, of course, take notes: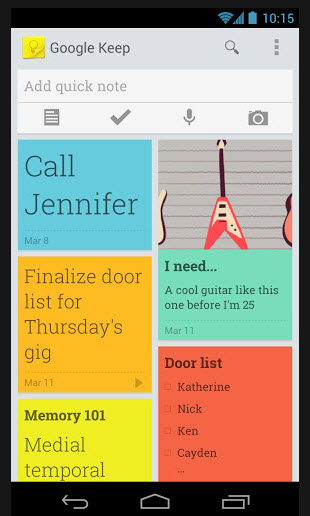 One cool feature is the ability to transcribe voice memos automatically, pretty handy for example when inspiration strikes while driving. Bear in mind though that the desktop version is not as refined as the Android app and does not offer as many options/features.
Links: