With rumors swirling about a new iPhone (or two) and a Retina display iPad mini coming out this fall, you may be wondering what to do with your old device if you choose to upgrade.
You may want to just trade it in at your carrier when you get your new device. I did that at Verizon when I got my iPhone 5 because it was just so easy and my screen was so very cracked. If your carrier won't trade it in or you are looking for another option (regardless of the condition of your phone), you may want to consider a website like Gazelle.  Gazelle accepts phones ranging in condition from the significantly damaged to the very pristine.  I have used them in the past and they are virtually painless. They provide you a quote upfront which is good for 30 days and send you a box to send in your device. Once they inspect your device, they will tell you the final trade-in price. Typically, it is the same as originally quoted but it may be more or less. If you opt for an Amazon gift card, you get an additional 5%. I am a huge Amazon shopper so this is always a good option for me.
So, if you decide to trade in, sell or give away your old device, you will need to wipe the device first. This will remove all settings and contents. Some things to consider before starting:
• The process will take anywhere from a few minutes to several hours so it is always a good idea to have your device connected to a charger for the entire process.
• If you do run out of power or have the process interrupted in some way, do a Restore in iTunes, connect your device to a power source and start over.
Wiping your iPhone or iPad
Before wiping your device, you should first back up your device using iTunes (File > Devices > Back Up) or iCloud (Settings > iCloud > Storage & Backup > Back Up Now).
Prior to wiping your device, Apple suggests turning off
• iCloud (Settings > iCloud > Delete Account)
• iMessage (Settings > Messages > iMessage > turn slider to Off)
• FaceTime (Settings > FaceTime > turn slider to Off).
Wiping your device takes five easy steps:
1. Plug your device into a power supply (not required but heavily recommended).
2. Go to Settings > General.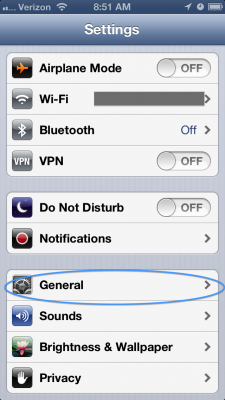 3. Scroll to the bottom and tap 'Reset'.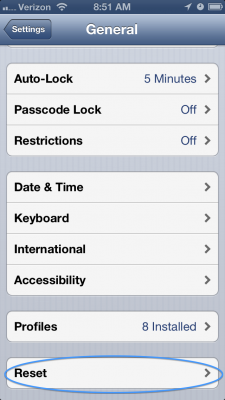 4. Tap 'Erase All Content and Settings'.

5. You are warned that 'This will delete all media and data, and reset all settings.' Tap 'Erase iPhone' to start the process.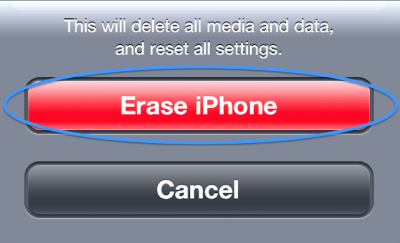 In case you are wondering how the devices are wiped:
• For devices that support hardware encryption, such as iPhones that are 3GS or later, all iPads and iPod touches that are 3rd generation or later, this process will erase user settings and information by removing the encryption key that protects the data. This typically only takes several minutes. Generally, all devices that support iOS 5 or later use hardware encryption.
• For devices that overwrite memory, such as the iPhone and iPhone 3G and the 1st and 2nd generation iPod touch, the process overwrites user settings and information by writing a series of ones to the data partition. This can take several hours to perform. The Apple logo and progress bar will be displayed during this process.
The last step that you should do is remove your SIM phone or deactivate your phone.
Global System for Mobile communications (GSM) models use SIM cards. GSM is the prevalent communication standard in most of the world. In the United States, AT&T and T-Mobile use GSM while Verizon and Sprint models use Code Division Multiple Access (CDMA).
If your phone has a SIM card, the SIM card stores information that uniquely identifies your phone on a cellular network. CDMA networks use a built-in mobile equipment identifier (MEID) to achieve the same thing.
To remove your SIM card, visit Apple's support site for instructions. The location of the SIM card varies by iPhone and iPad model.
If your device uses MEID technology, call your carrier to have the MEID deactivated. You can find your phone's MEID by going to Settings > General > About and noting the value in the MEID field.
So, if you want to sell or give your old device away, the steps to make sure there is no personal data on your device are:
1. Back up your device
2. Turn off iCloud, Messages and FaceTime
3. Wipe your device
4. Remove your SIM card or call your carrier to deactivate your MEID.