Microsoft Office Online
To get started with Microsoft Office Online just use your existing Microsoft Account username and password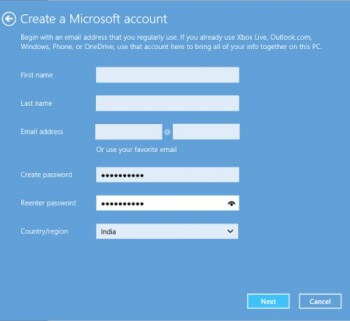 to sign in. Don't have one? No problem, creating one is free and easy.
A Microsoft account is an email address and password that is used to sign in to services like Outlook.com, Skype, OneDrive, and Xbox Live or your Sway account.
Go to the Microsoft account sign-up webpage.
Tap or click "Sign up now."
Fill in your name.
You can use any email address for your Microsoft account, including addresses from Yahoo! or Gmail. To use your favorite email address, enter it in the User name field.
To get a new email address, tap or click "Or get a new email address."
Fill out the rest of the form, and then click "Create account."
Free?
Is Microsoft Office Online really free? Yes. There are three Office programs missing, Access, Publisher and Outlook. Other than that, you will have working access to all nine of the features listed below, even if you do not have MS Office on your computer.

I have included Outlook.com in that number but it is not actually the "Outlook" you have on your computer. It is however a nice feature in that you can forward all your webmail accounts to one location and it gives you the option of creating folders.

The People App is auto populated from Gmail, Yahoo and Skype. If your friends are on a social network, their birthdays will be listed in Calendar.
Word, Excel, and PowerPoint work very similar to the computer based versions. You may even collaborate with anyone. (Share your files with others and work together at the same time.)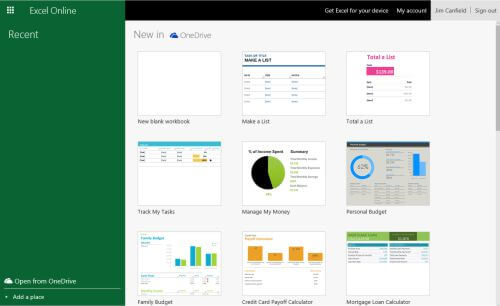 Microsoft even offers full featured templates to get you started. If you need a Trip Planner, Household Organizer or Workout Log, all the ground work is completed for you. Just add some names and numbers. Get started on a presentation with a running head start.
One of the best features of Office Online is the ability to access your documents, photos and information, online from any device.  It works from any smartphone, Tablet and PC or Mac. Basically, if you have a screen and internet access you have Office Online.
Sway
One of the features I did not list is the new Microsoft Office Product Sway.  The next Post will cover that in detail.
Summary
I think Office Online is a nice addition to the Microsoft product line, they continue to add features and programs like Sway. The online ability, while nice, is slower than working on a local file. I believe that is offset with the ability to collaborate online in live mode.
Jim