In 1976, NASA unveiled the first Space Shuttle, the Enterprise.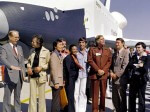 The shuttle was originally called Constitution. A write-in campaign by "Star Trek" enthusiasts urged President Gerald Ford to go with Enterprise and, as a result, the name was changed. The Enterprise was a test vehicle that never reached space. Five space-ready orbiters joined the shuttle fleet: Columbia (1979), Challenger (1982), Discovery (1983), Atlantis (1985) and Endeavour (1991).
Learn more at http://www.space.com/12991-nasa-space-shuttle-enterprise-35-years.html.
In 1999, Compaq Computer introduced the Aero 1530 handheld computer.

The Aero 1530 featured Windows CE, 16MB RAM, fourteen hours of battery life as well as a backlit 16 gray 240 x 320 pixel display. It weighed 6 ounces (170 g) and was priced at $299.
Learn more at http://pencomputing.com/frames/compaq_aero1530.html.
In 2001, Handspring unveiled the Handspring Visor Neo handheld computer.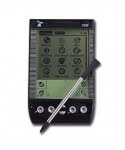 The Handspring Visor Neo featured a monochrome display, a 33MHz processor, 8MB RAM, and the Palm OS 3.5.2H3. There was no rechargeable battery ; two AAA batteries powered the unit for six to eight weeks. The handheld computer was priced at $199. An upgrade to Handspring Visor Pro with 16MB RAM cost $299.
Learn more at http://www.palminfocenter.com/view_story.asp?ID=2677.