In 2008, Apple's iPhone 3G went on sale.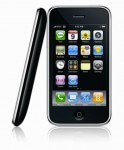 Apple sold more than 1 million devices in its first three days, a feat that, according to Steve Jobs, took the original iPhone 74 days to accomplish.
Learn more at http://www.thestreet.com/s/apples-iphone-3g-passes-1-million-mark/newsanalysis/techtelecom/10426218.html
In 1979, Skylab entered the atmosphere over Australia and disintegrated.
Skylab was launched into Earth orbit by a Saturn V rocket on May 14, 1973.
Learn more at http://www.nasa.gov/mission_pages/skylab/