In 2008, 
Edson Smith of the UCLA Mathematics Department announced the discovery of the 45th Mersenne prime number.
Mersenne Prime numbers all take the form of (2 to the power of P) – 1, where P is a known prime number. The Mersenne Prime number discovered by Edson Smith was (2 to the 43,112,609th) – 1, which is 12,978,189 digits long. It was the first Mersenne Prime number to be longer than 10 million digits.
Learn more at http://www.math.ucla.edu/~edson/prime/.
In 2002, Apple Computer launched the Mac OS X 10.2 operating system, Jaguar.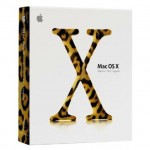 Released at 10:20 PM, Jaguar featured a new Mail application designed to eliminate junk mail, iChat AIM-compatible instant messenger, a system-wide Address Book, Inkwell™ handwriting recognition and QuickTime® 6 with MPEG-4.
Learn more at http://www.apple.com/pr/library/2002/08/23Jaguar-Unleashed-at-10-20-p-m-Tonight.html\.