In 1994, Netscape Communications Corporation offered its new Netscape Navigator browser free to users via the Internet.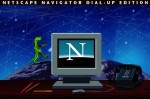 Netscape advertised that "the web is for everyone" and stated one of its goals was to "level the playing field" by providing a consistent web browsing experience across all operating systems.
Learn more at http://en.wikipedia.org/wiki/Netscape#Netscape_Navigator_.28versions_0.9.E2.80.934.08.29.