In 1999, 
Advanced Micro Devices (AMD) introduced the Athlon line of processors.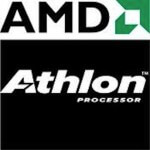 According to AMD, the processors, featuring Enhanced 3DNow! technology, were 'the fastest, most powerful engines for x86 computing'. Sold in 1,000-unit quantities, the processors ranged in price from $249 for the 500MHz processor to $849 for the 650MHz processor.
Learn more at http://www.amd.com/us/press-releases/Pages/Press_Release_765.aspx.