clayto
Forum Posts: 15
Member Since:
July 23, 2015

Offline
My post over a week ago has not appeared so I am posting on the same topic again. I want to create a disc image backup with Aomei Backupper but as I hope can be seen from the screen snip the program does not detect my C Drive with the Windows 10 OS. Aomei has not replied to my latest emails on this and I suspect they are mystified. Strangely, their Partition manager has the same issue, it does not display my C Drive.
I hope you can help.

dandl
Lexa, AR
Forum Posts: 729
Member Since:
April 29, 2013

Offline
Hi Clayto,
Because the drive is only 30GB I'm assuming it must be eMMC (flash) storage. Is the PC some kind of portable device, maybe a 2-in-1 transformer or similar? Please let us know the brand name and model of the PC.
Could you please post a screenshot of the details under Disk Management. Right click This PC and select Manage. In the "Computer Management" window, from the left hand menu, click Disk Management.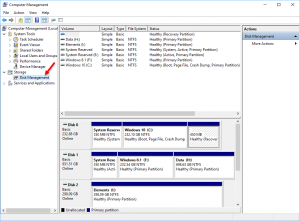 TechnoMage
Central FL, USA
Forum Posts: 21
Member Since:
April 17, 2016

Offline
In the most general terms, I'd like to address the problem of a backup program that won't do what you think it should do.
There are a Bunch of backup programs out there, with at least one of them nearly 20 years old, that still works. And that's the one I still use, even for Windows 10 backups. So if you're using one that's not working for you, try a different one. Most have a FREE version.
The biggest problem I've found, (in 36 years) with folks having problems doing backups, is that they don't really understand the basic rules of backing up their computer.
Most important rule of all, is that the Backup/Restore program MUST not be on the OS drive.....because when that drive has crashed, there went the Restore program. (Up in Smoke!)
And of course, the backup files should always be on a removable drive, for safety.
Some years ago, I ran my Backup/Restore program from a Floppy Disk.
Then as the program was updated and would no longer fit on a single Floppy Disk, I switched to a Flash Drive. Since some PC's don't like to boot from a Flash Drive, I copied that program to a CD.
Since 1997, I've used the same program (with updates) for all my HD backup and Cloning. Why? Because it just WORKS!
Cheers Mates!
TechnoMage

A man with experience is never at the mercy of a man with an argument.

clayto
Forum Posts: 15
Member Since:
July 23, 2015

Offline
I am sorry to have taken so long to reply. I am now in email correspondence with AOMEI again. After sending the screenshots to them they have given me a partial explanation of what is happening. I will have to study it more thoroughly as I dont understand it yet, but anyway they are now examining a log from Partition Assistant I sent and I expect that may help them in resolving the issue. I will let you know.
For the record my C Drive is not eMMC, it is a Samsung SSD in a 2-in-1 Tablet PC, a !0.1" Quantum View with Windows 10. The small size of the SSD was becoming a problem until Windows 10 allowed for apps / programs to be run from external drives ---- I use both USB flash drives and SD Memory Cards quite successfully. This alone has made the upgrade to Windows 10 worthwhile.

clayto
Forum Posts: 15
Member Since:
July 23, 2015

Offline
After further research I have come to the conclusion that my SSD is in fact a Samsung eMMC and as such AOMEI cannot work with it. Following detailed advice I have switched to ASUS TODO which is quite similar to AOMEI without the restrictions. It seems to be very saiisfactory, easy to follow with good options. I have carried out a full Backup to both a USB Flash Drive and a DVD, an integrity check shows it to be OK.
Forum Timezone:
America/Indiana/Indianapolis
Most Users Ever Online: 2303
Currently Online:
29 Guest(s)
Currently Browsing this Page:
1 Guest(s)
Member Stats:
Guest Posters: 11
Members: 2886
Moderators: 6
Admins: 4
Forum Stats:
Groups: 8
Forums: 20
Topics: 1879
Posts: 13310
Administrators: Jim Hillier, Richard Pedersen, David Hartsock, Marc Thomas
Moderators: Carol Bratt, dandl, Jason Shuffield, Jim Canfield, Terry Hollett, Sergey Grankin