Disk Eraser
After you click on this tab, the program will start analyzing the number of files on your computer that are recoverable by some recovery software.  This tool will securely erase those fragments or files from your hard drive. What this tool does is wipe the drive where the file is located. You have the option of setting the security, or the "number of wipes" it will perform.  One pass should suffice for most files but each level of security will greatly increase the time it will take to wipe the file. Wipes of 35 passes are a bit of an overkill and would probably take a week to complete. Newer drives made after 2001 should not require more than 1 pass.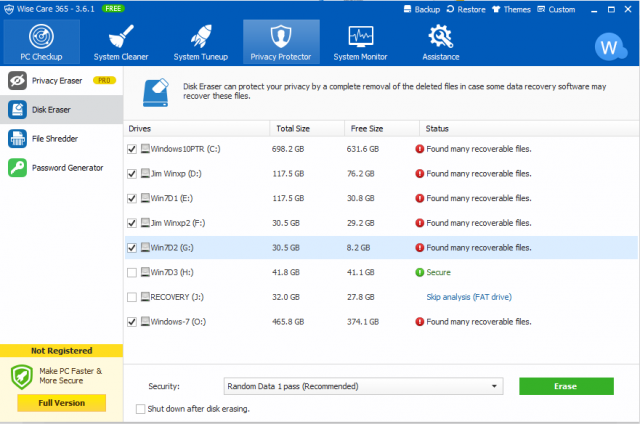 File Shredder
If you want to destroy a single file or folder, you may do so in the File Shredder area. Click on the File Shredder Tab. Add the files and or folders you want and shred away. Remember, once it is gone it's gone.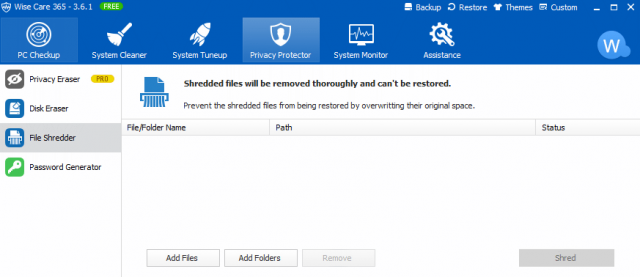 Password Generator
A nice little utility to generate secure passwords.  Be sure to write them down and securely store them somewhere because it will not create easy to remember passwords.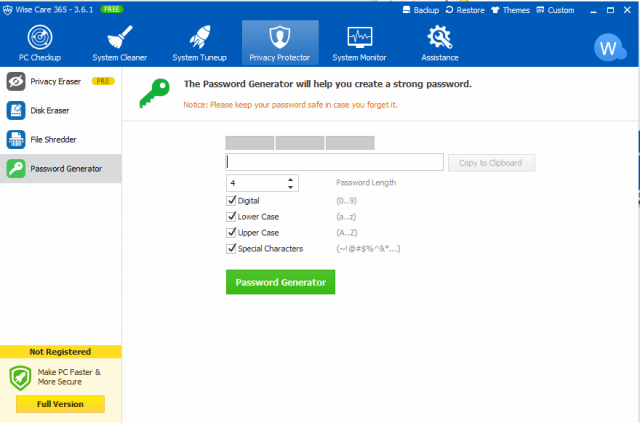 System Monitor
Clicking on the System Monitor tab will open a data screen. There are no actionable events here. You may view the number of  user and system processes. You may also check an overview of different areas of your computer. All of these features may be found within Windows. I do not feel these add any significant value to the program.
Assistance
Have a tough computer question?  The last tab offers the Wise Assistance feature.  This is a pay per question service for those in need. If you are on a job out of town and you have a glitch in your computer what would you pay to get up and running again? Conversely, you may log in to answer questions and get paid if your answer is selected as the best.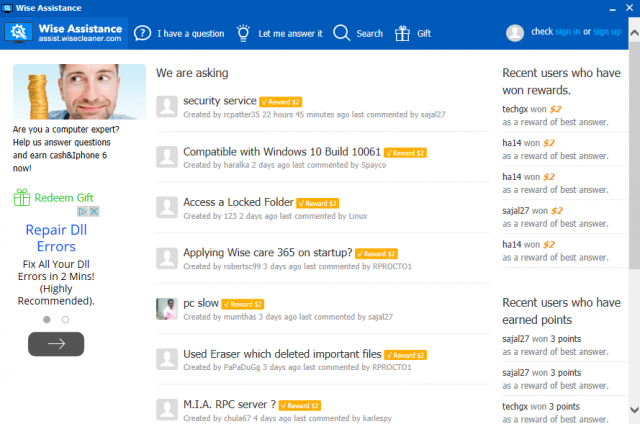 You may select the amount you want to pay but you must first open an account with the Wise Assistance program.
Additional Add-ons
After installing the program it also includes two features that may be turned off if you wish.   One is the display of the memory percentage and temperature which may also be set to optimize memory past a set percentage.
The other is the Bootup Booster. If you are happy with your boot time then there is nothing to do , if however, you want to try and tweak it, click on Speed Up to make some deletions in the start up area.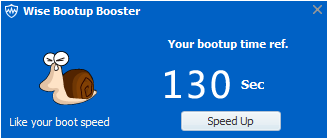 My thoughts on Wise Care 365
Overall, I like Wise Care 365. I personally run it in combination with CCleaner. Together they appear to get all the junk and privacy files off my computer. It does a good job of displaying just what is going to be cleaned and it also gives the operator the option of digging deeper by looking at the line items that will be deleted. I don't mean to imply that there are no other effective free software, indeed there are a few good ones, but this is one of the products I am not afraid to download.
Some items are not an improvement over the existing Microsoft programs already installed on your system but give you easy access to them. Some of the features like Wise Bootup Booster actually hinder startup time a little by checking to see what is going on during the boot up process.
Considering the large number of fee based optimizing programs available it is amazing that one as effective as Wise Care 365 is "Free".
I mentioned in the beginning that there are many supposedly "Free" optimizing programs but all too often they are not really free, they will scan your computer for free and report a frightening amount of errors and then inform you that you must buy the program to remove them.  Others are outright scams and try to infect your computer with "toolbars", "bloatware" and other programs that may be harmful to your computer – be careful out there!