Winners Announced!
[message type="info"]
Backup Maker Pro Giveaway Contest!
This contest has now expired. Winners will be notified by eMail.
David Hale
Jacek Krajewski
David Tomm
David Hakah
Roger Dunk
Congratulations to the Winners and Thank You to everyone who participated!
[/message]
Backup Maker Professional
Ascomp Software has offered five (5) licenses for Backup Maker Professional to some lucky DCT readers.
Backup Maker is also available as a free download for non-commercial use so you can try it out before you buy. The professional version allows for commercial use and also provides free technical support. It would normally cost $25 (US) at the time of this writing, but you can get a chance of winning a free copy of the professional version just by entering this contest.
I gave this program a run and here are some thoughts and results…
Backup Settings and Run Through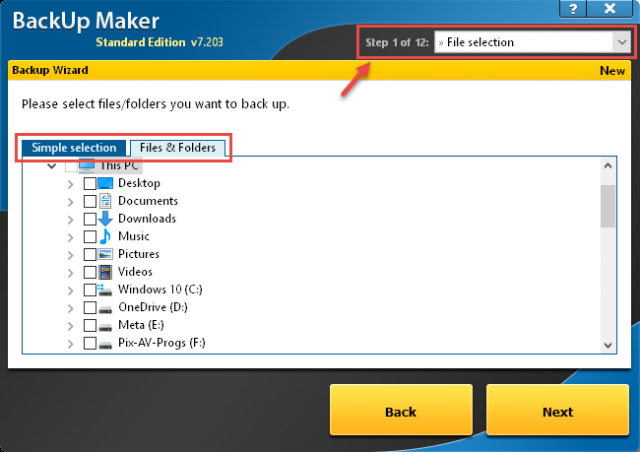 When setting up a backup, you will have 12 pages of settings to walk through. The settings range from choosing source and destination, backup type (full, incremental, or differential), scheduling options, encryption, compression, priority, and many other choices. Backup Maker is nothing if not flexible.
Backup Maker saves its backups in a .zip format which means they are accessible with any archive program that recognizes this ubiquitous format.
My Windows system is using ~28GB of drive space and Backup Maker created a file roughly 15GB in size. I used the Medium Compression and Medium Priority settings for this run. To backup and verify this first full backup took approximately 65 minutes. Quite slow, I think, but based on past experience with other backup solutions that use the .zip format, this seems to be normal.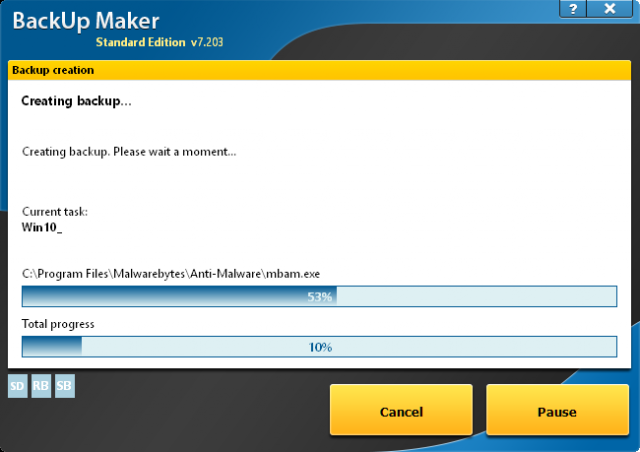 A subsequent incremental backup took only a few seconds. This was incredibly fast, even when compared to the full-featured commercial grade backup software I am currently using.
When the backup and verification process has finished, Backup Maker will show you a log file describing its accomplishments and failures (if any).
Another feature which I happen to like is that Backup Maker comes with a pre-bundled help file in .pdf format. I much prefer this over being sent to an online help system.
One final thing you should be made aware of is that Backup Maker is not intended to be used as a system backup tool. Its primary purpose is to back up data and for that job, it is the perfect tool.
How to Enter the Contest
We'd appreciate it if you'd take a moment and submit a comment telling us why you'd like to win Backup Maker Pro. However, submitting a comment is not required to enter this contest and will have no bearing on your chances.
For your chance to win, simply enter your name and valid eMail address in the spaces provided below, then click Enter Contest. After your entry is accepted you will be presented with options to share the contest on Twitter and/or Facebook. For each person that enters the contest as a result of your share you will earn two (2) extra entries!
Sharing the contest on social media is completely voluntary, but is encouraged.
Competition Rules:
To enter, simply submit your name and a Valid eMail address. Your address will not be shared outside this site


You must submit a VALID eMail address. We need to contact the Winner, so disposable eMail addresses will not be eligible

Additional entries may be earned by voluntarily sharing on Facebook and/or on Twitter

Shortly after the contest ends, the winner(s) will be chosen at random

Winner(s) names will be posted on this giveaway page. Please check back here to see the winner(s) name announcement!
The winner(s) will be notified by eMail at the eMail address used to enter the contest – be sure to use a valid eMail address that you check regularly
Winner(s) must claim their license within five (5) days. After the five (5) day period, unclaimed prizes will be distributed at DCT's sole discretion

Entrants agree to allow DCT to communicate with them via eMail using the address provided by the entrant when entering the contest
[contesthopper contest="71891″]
Good luck to everyone!
—