Every so often we are treated to a freeware product which is so good it's difficult to believe it is actually free. The list is very short indeed but, in my humble opinion, it just grew by one… Auslogics BitReplica.
If you are a regular DCT reader then you are most likely already aware of our regular and frequent mantra to backup, backup, backup – you cannot have too many backups. My own backup strategy includes; regular creation of full system images, backing up all personal data to external drive, and additionally backing up critical personal data to DVD or flash drive.
A large part of creating regular backups is finding the right software to help take the pain out of what is often a tedious and time consuming process. Typically required elements are;
The ability to fully customize, automate and schedule backup operations
The ability to apply compression (for large backups and anyone who wants/needs to conserve space)
The ability to create backups in a variety of configurations; full, differential, incremental
Simplicity and Ease of use
BitReplica, from the well respected Auslogics stable, is free backup software which includes all these critical factors and much more – it is impressive to say the least. Download is a surprisingly conservative 5.16MB, installation is 100% clean and free from toolbars and bundling. BitReplica's modus operandi center's around highly configurable user created 'profiles': create a profile following BitReplica's simple step-by-step in-app guide, apply the profile, and then either schedule the profile to run at regular intervals or run manually yourself. You can create as many profiles as you like, or as required to satisfy your backup needs.
BitReplica's initial working interface is pretty basic, simply click on the + New Profile menu item or button to begin: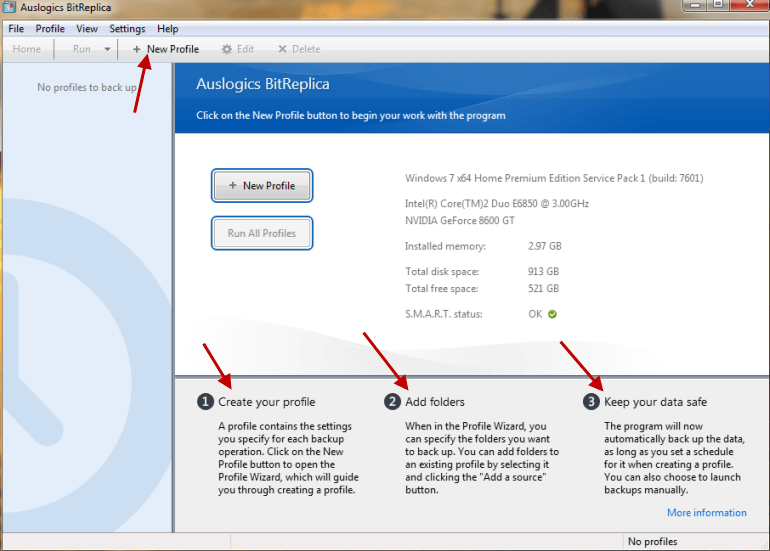 Now you will be presented with a list of pre-defined items to backup, simply place a checkmark next to each item you wish to include. Additional folders can also easily be included. Note the list of successive steps in the left hand panel (with "What" now highlighted) – each time you complete a section and click on the Next button you will automatically be taken to the following step.
What – select items/folders to backup:
Where – select the destination for the backup: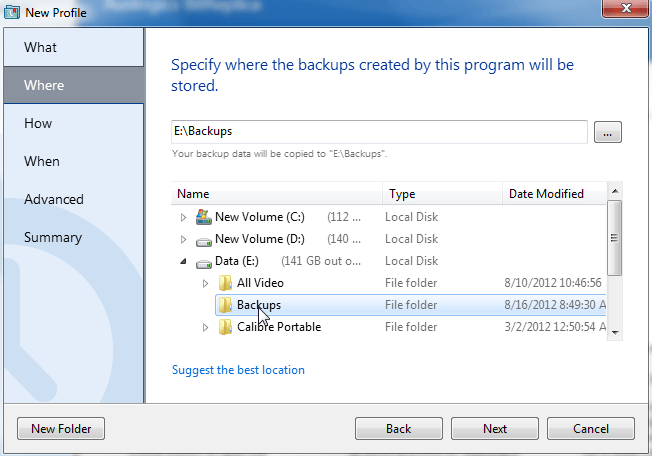 How – select the type of backup, specify rules and apply levels of (zip) compression: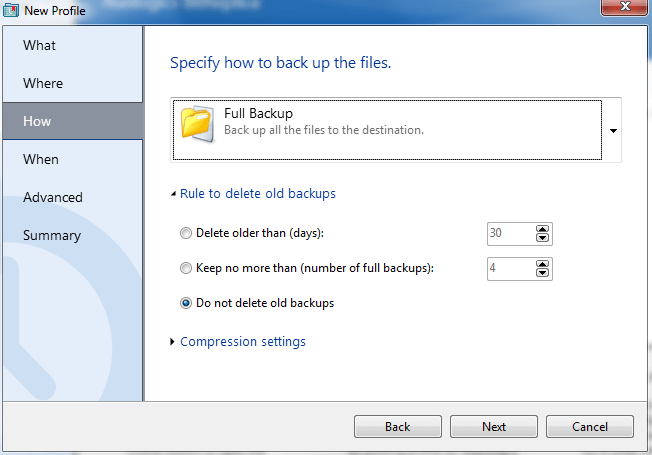 Note: I've specifically highlighted the Synchronization option in the above screenshot because it is a terrific yet rare inclusion:
When selecting how to back up your files in the Profile settings, you can choose to synchronize files in the source and destination folders. This lets you create the exact same sets of files to work with on two networked computers.
When – schedule regular automatic backups: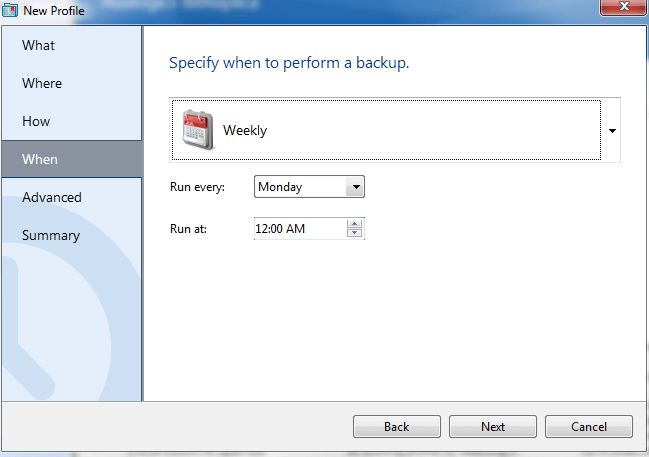 Advanced – includes a list of selectable exclusions by file type (default settings will suffice for most) and an option to 'verify' files after the copying process is complete:
Summary – don't forget to apply a suitable name, this is important to help identify each profile within a multiple profile setup: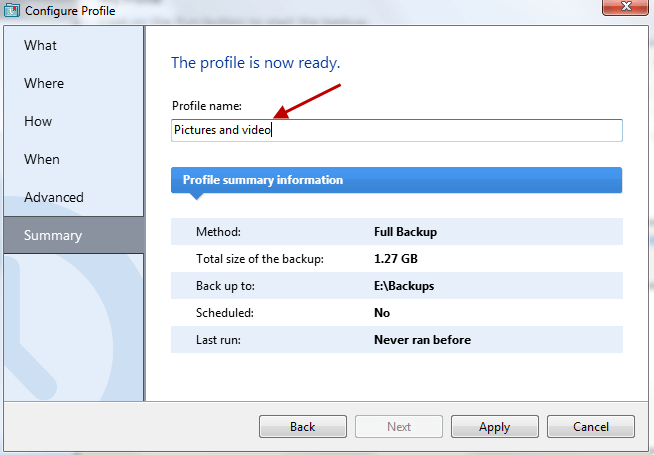 Clicking on Apply followed by the Finish button will take you back to the main interface which is now displaying details of your backup profile. Other areas will be populated after the backup process has been run and completed. To 'run' immediately, simply click on the Run button and select the appropriate profile: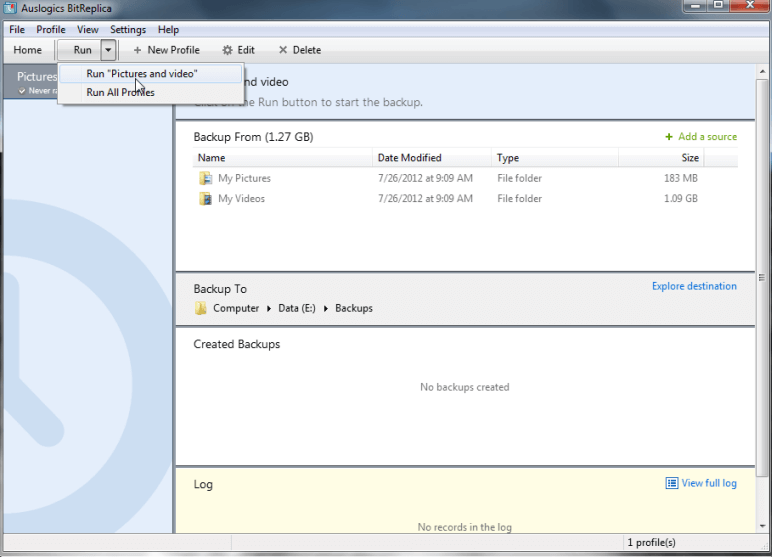 As BitReplica does its thing, progress bars appear top and bottom of the screen. When the backup is complete, you will now see a list of Created Backups with links to 'explore' the destination folder and 'restore' backups: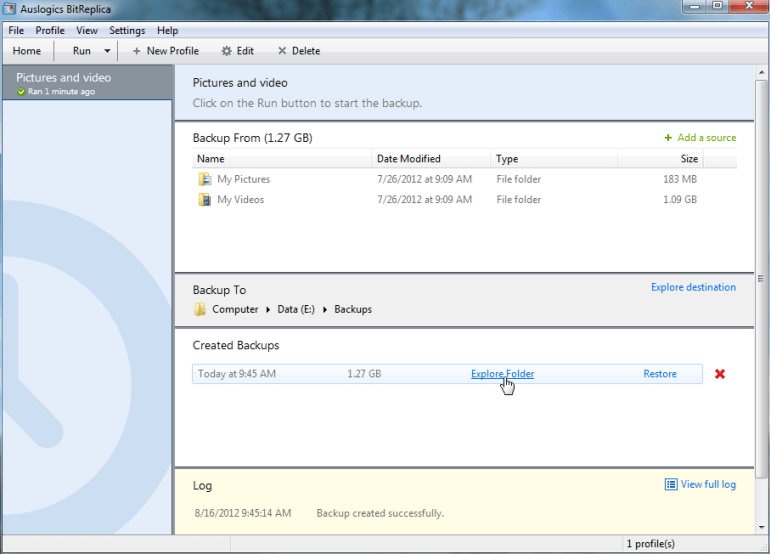 This has been just a basic example of BitReplica's amazing abilities and versatility. Oh, by the way; not that it means much but the simple 1.27GB backup detailed here took under a minute to complete.