Ashampoo has announced the imminent arrival of its new Burning Studio 11, due for official launch on 23rd November. In my humble opinion, Ashampoo Burning Studio is the best burning software available. Ashampoo Burning Studio excels in all areas; ease of use, intuitiveness, range of features, speed, quality and efficacy.
As well as all the usual functions one would expect from this top flight burning suite, did you know Ashampoo Burning Studio also includes features to:
Create and burn slideshows from photos and/or videos
Author and burn video to Blu-ray or DVD – including automatic conversion
Create covers and labels – including full-featured editor and print to disc
So you are actually getting multiple professional programs in one, which is exceptional value.
One would expect the latest release of this great software to offer enhancements over its predecessors, and it certainly does not disappoint:
The new Compact Mode with its up-to-date design is always available on the desktop and includes the most important functions to quickly burn data discs. Burning data has become incredibly fast and easy with the Compact Mode.
The new comfortable file dialog provides access to any available content. This way you can, for example, always and anywhere add online content from Facebook, Dropbox, Flickr or Picasa. Then you can give free rein to creativity!
Now you can use your photos and videos that have just been made even more quickly and easily. Just connect your digital camera or smartphone with your PC and select the desired files in the file dialog. That's it!
Experience new speed records with Ashampoo Burning Studio 11! Due to faster encoding of several videos, you can now create video discs with your multi-core PC in a considerably shorter time.
Improved and extended cover editor which now provides even more extensive and advanced editing functions.
Disc-Image browser to browse the content of disc images and extract files.
Brilliant new themes and designs for DVDs, slideshows, movies, etc.
All this and more: for a full preview of new and improved features Ashampoo Burning Studio 11 has to offer, visit THIS PAGE
From Ashampoo Product Manager Bastian Ridder:
We took a two-pronged approach to the development of Burning Studio 11. Innovations such as the Compact Mode should be equal to numerous improvements of existing features. Full support for multi-core systems when encoding films was also among the top 3 tasks. And then there was the classic Ashampoo formula, to organize everything as intuitively as possible.

It's not particularly difficult to just put together features and to send users through confusing menus until he reaches his goal by chance. But that certainly wasn't our objective. We wanted to include more functions without neglecting the clear and simple program layout. On the contrary, we wanted to simplify burning to the maximum degree. We achieved this by introducing the Compact Mode.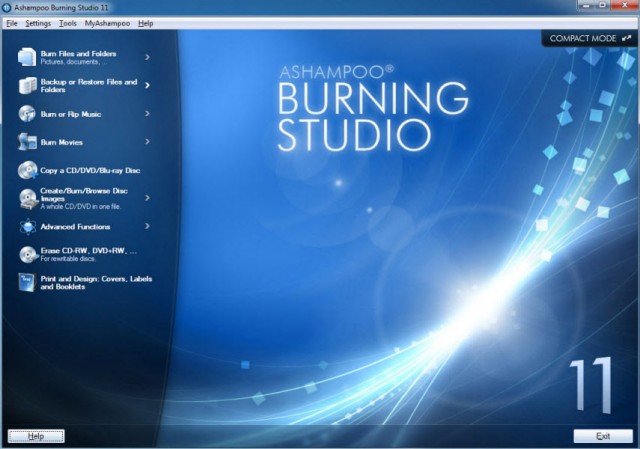 If you are looking for a superior, full-featured burning suite which is also amazingly easy to use – you should definitely check out Ashampoo Burning Studio 11.