Apple Announces Going Smaller
At the Apple event on March 21st, Apple announced a smaller iPhone as well as a smaller iPad Pro.  Nothing too shocking since these were the widespread rumors prior to the event.
iPhone SE
After seeming somewhat reluctant to release a bigger iPhone, Apple finally did so in 2014 when it released the iPhone 6 and iPhone 6 Plus.  Gone was the 4″ display of the iPhone 5 in favor of a 4.7″ display for the iPhone 6 and a 5.5″ display for the iPhone 6 Plus.  So, I have to admit, I was surprised by the rumors of a smaller iPhone.  But, as expected, Apple announced the iPhone SE with its 4″ display.   Apparently, I wasn't the only one wondering why Apple would go back to a 4″ display.
Greg Joswiak, Vice President of product marketing, explained that 4″ devices are still very popular with over 30 million 4″ iPhones sold in 2015.  Also, Apple's 4″ devices are popular as a first iPhone purchase and Apple is hoping that the iPhone SE will be a major player in China and emerging markets.
The iPhone SE sports Apple's A9 chip with an embedded M9 motion processor.  This gives it the same power as the larger iPhone 6s.  The iPhone SE has an improved battery life and a 12 MP iSight camera as well as support of 802.11ac WiFi, Live Photos, Touch ID and Apple Pay.  Available in silver, space gray, gold and rose gold, it is the most affordable iPhone with a price of $399 for the 16GB version and $499 for the 64GB version.   You can order it staring on March 24th.  Shipments start on March 31st.  By the end of May, the iPhone SE will be available in 110 countries.
iPad Pro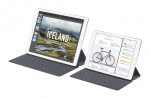 Apple's Senior Vice President of worldwide marketing, Phil Schiller, started off the iPad Pro presentation by explaining why Apple would offer a 9.7″ iPad Pro.  First, 9.7″ iPads have been the most popular size with over 200 million sold.  Also, he said that most iPad Pro users come from Windows PCs and he would like to reach more of them with the smaller iPad Pro.
With an official name of '9.7-inch iPad Pro', it weighs less than 1 lb. and comes with Retina Display.  When compared to the iPad Air 2, it is 40% less reflective and 25% brighter.  It has Apple's fastest processor ever (or so far), the A9X.  It is available in silver, space gray, gold and rose gold.  Prices start at $599 for a 32GB, WiFi only version.   The 64GB version is $749.  For the first time, a 256GB model can be had for $899.  As per Apple's standard pricing, add cellular will set you back an additional $130.  Order and shipment dates are the same as for the iPhone SE:  orders – March 24th, shipping – March 31st.
Images credit ~ Apple
—