When it comes to partition managers we freeware fans are truly blessed to have 3 very good choices among the main contenders: EaseUS Partition Master Home is arguably the better known of the three. MiniTool Partition Wizard has long been my personal favorite. Then there's AOMEI Partition Assistant Home, a comparative newcomer and one, which I openly admit, I knew very little about. So I thought it was about time to take a look at AOMEI's offering and see how it compares with the competition. The result… very favorable, very favorable indeed!
AOMEI Partition Assistant Home is full-featured disk management freeware which includes all the usual basic partitioning options plus a host of additional advanced features… and the good news for home and small businesses is that the freeware can even be used commercially. Here is a selection of just some of the key features:
Resize and move partition to reorganize your hard drives.
Migrate OS to SSD or HDD for system migration to solid state drive or hard disk drive.
Extend NTFS system partition without restarting your computer.
Merge two partitions or merge non-contiguous unallocated space to partition.
Split one big partition into two or more.
Allocate free space from one partition to another to fully utilize disk space.
Copy partition for migrating Windows system and data
Copy disk to a new one without reinstalling Windows and applications.
Partition Recovery Wizard helps you recover lost or deleted partitions with ease.
Create more partitions as you wish even without unallocated space.
Convert primary to logical partition and vice versa.
Linux partition management: create, delete, format, wipe, copy, recover Ext2/Ext3 partition, etc.
Make bootable CD for safe and better disk partition management.
Support 2TB MBR disk, 4TB GPT disk, and USB flash drive.
Support all hardware RAID, such as RAID 0, 1, 5, 10, etc.
Rebuild MBR to repair or add boot code
Wipe hard drive to permanently erase sensitive data
Disk surface test to check and fix bad sectors.
You can view a full list of key features, wizards, and supported technologies here: http://www.extend-partition.com/feature.html
And a full feature comparison chart between editions here: http://www.extend-partition.com/compare-edition.html
Download is a surprisingly compact 3.4MB executable which scans 100% clean through Virus Total. Installation is straightforward and, in today's freeware climate, refreshingly devoid of bundling or unwanted extras.
AOMEI Partition Assistant's main interface is logical and highly intuitive… ergo, it is very easy to comprehend and use: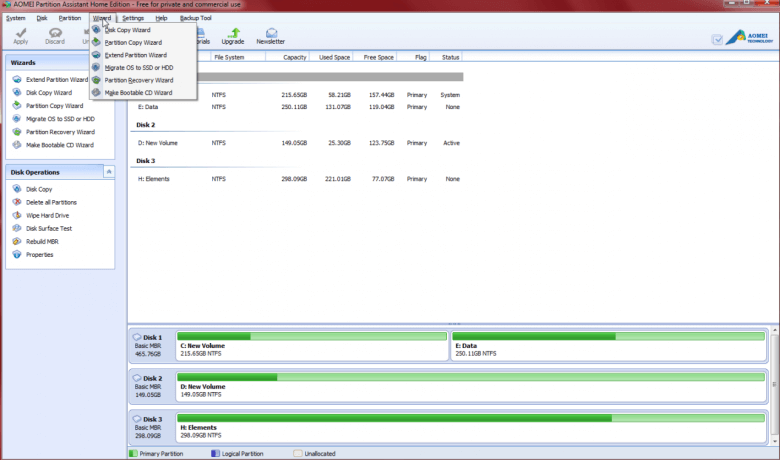 You will notice in the above screenshot that I have expanded the "Wizard" menu. These Wizards will help guide you, step-by-step, through some of the more complex operations:
For the more advanced users; AOMEI Partition Assistant Home also includes a feature to create a WinPE boot disc. To the best of my knowledge, this is the only freeware which provides that option.
The Verdict:
AOMEI Partition Assistant Home is definitely right up there. With a feature-set second to none and commercial use allowed, it would be very difficult to best and represents a fine choice.
**PLEASE NOTE: All partitioning operations involve an element of risk… be careful!! And make sure you have adequate backups and/or images on hand.