I found my old Kyocera 7135 a few days ago.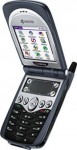 Actually, my son found it while he was looking for some 'old school' video games. It was like I ran into an old friend. It's deader than dead but it brought back some memories of how good of a phone it was for its day.
Before the Kyocera, I had a Palm Pilot. In 1979, I got one from my husband for our 20th anniversary. Geeky, I know, but he knows me well. I wasn't sure about it at first but was soon a big fan.
When my cell phone contract was up in 2002, I decided to retire my Palm Pilot and get the Kyocera 7135.
In its day, the Palm OS was the arguably the best mobile OS out there. There was no iOS or Android in those days; just Palm, Pocket PC (powered by Windows CE) and BlackBerry, for the most part.
One of the things that I liked about the phone was the second LCD display. The Kyocera 7135 was a flip phone but when someone called, their Caller ID info appeared on an LCD at the top of the closed phone. You could decide whether or not to take a call without opening the phone.
Lack of a QWERTY keyboard may have been seen as a shortcoming by some but Palm had Graffiti, a handwriting application. You had to make letters and numbers in a certain form for them to be recognized. I must say that I became quite adept at it with my stylus and had no need for a keyboard.
Although the headphones were sold separately, you could load music from your PC to the Kyocera using a multimedia card and play it on the Kyocera. You could 'shuffle' songs (known as 'random' in the Palm OS world) and create a PlayList.
Also, the Kyocera 7135 was Kyocera's first venture into a color-screened phone. I thought it was pretty cool having a color screen after my monochrome Palm Pilot.
Soft buttons on the screen included Home (to go back go the Application screen), Phone, Dropdown Menu (which showed context-senstive menu items) and Search (phone contents only).
Hard buttons, some on which could be repurposed, were Date Book, Address Book, Mail, Web and OK. Also, Send, End, Clear, Volume and Brightness.
In addition to the Browser and Date Book applications, there was Eudora for email and Messages for text messaging.
This seems all rather mundane and pedestrian now but, back then, the Kyocera 7135 was a very cool phone.