Earlier this week I published an article outlining the '4K' range of portable applications. Preliminary research revealed  a number of minor concerns as well as several overall positives. If you haven't read that article yet I suggest you do so now: 4KDownload.com: Range of Portable Freeware.
4K Slideshow Maker – The software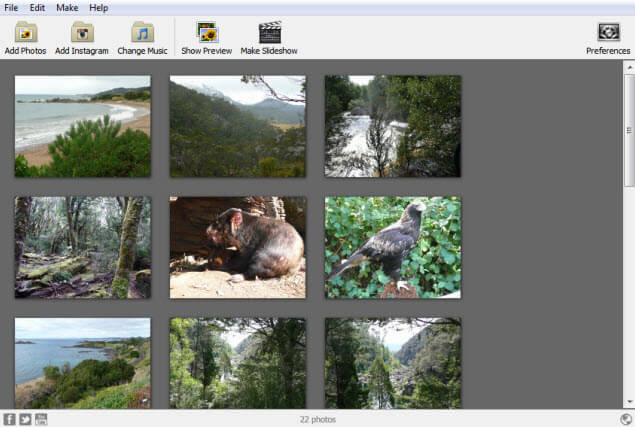 4K Slideshow Maker is a straightforward and easy-to-use app to create slideshows. Just add your favourite photos from Instagram or from your own computer, select the music and then apply gorgeous effects. Advanced face-recognition technology insures that you won't miss that special someone. Save your slideshow in the highest quality for your iPhone or share it on Facebook.
Slideshow creation freeware can be pretty much divided into two categories – the haves and the have nots. 4K Slideshow Maker sits somewhere in between; it doesn't include all the bells and whistles of more advanced software but is way above many basic alternatives. It is an effective compromise, eliminating many of the complexities involved with this type of software while offering more than enough to satisfy most. For example; 4K Slideshow Maker does not include a variety of transitions but it does automatically apply the very good Ken Burns effect (a system of random pan and zoom effects)
4K Slideshow Maker does not provide any native burn-to-disc function either but it does offer a good range of useful output video formats which can then be burned to disc using any free DVD authoring software, such as Windows DVD Maker or DVDFlick.
4K Slideshow Maker Portable – Download and usage
The portable version of this software is a 34.00MB zip download extracting to 87.8MB (Windows 7 64-bit Home Premium). The executable scans 100% clean through Virus Total and scanning the entire folder contents with Malwarebytes Anti-Malware also returns 100% clean.
As with all truly portable software no installation is required, simply double click the extracted executable to run: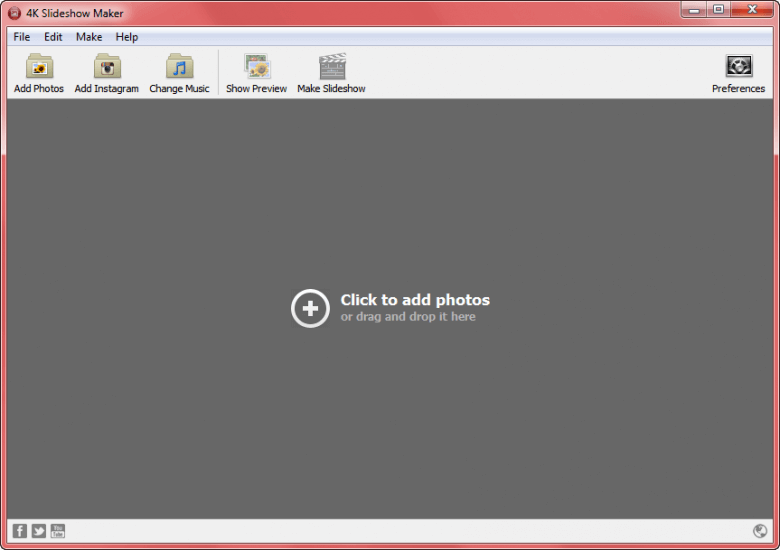 Across the top of the simple interface you'll see menu buttons representing the steps required, in order from left to right:
Add Photos – import locally from a folder or download from Instagram
Change Music – add your own music, locally from a folder (fade-out is applied automatically to fit)
Show Preview – via built-in preview player
Make Slideshow – output to selected format
The "Preferences" menu provides everything you'll need to customize your slideshow: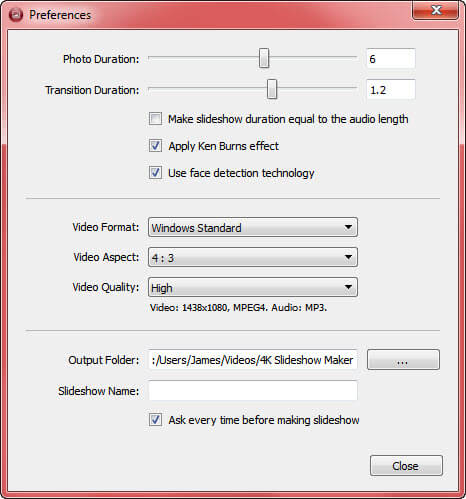 Set photo and transition duration – Photo duration 1 sec —> 10 sec.
Select video output format – Windows Standard, Mac OS X Standard, iPhone 5/4/3GS, iPad/iPad Mini, YouTube, Facebook
Select aspect ratio – 16:9 or 4:3
Select video quality – High, Medium, Low
Select output folder – or stick with the default
Select name – type in a suitable title
*Leaving the bottom option enabled will present all these settings again just prior to actually creating the slideshow.
I created a 22-photo test slideshow at 16:9 aspect and 'Medium' quality. Selecting 'Windows Standard' format resulted in a 78.6MB AVI video file – time to completion 14 minutes. The same settings for 'YouTube' format produced a 56.9MB FLV video file – time to completion 13 minutes. Time to completion in both cases is comparable to other similar software I've used – video rendering is generally a rather slow process so a little patience is required.
A picture is worth a thousand words:
Bottom Line
If you are looking for an easy to use yet effective slideshow creator, you could do a lot worse than 4K Slideshow Maker. And if portability is a primary requisite, it's pretty much a no brainer.