Windows 8 has attracted a lot of criticism over its apparent lack of convenient navigation menus. Truth be known, there are probably more of these menus included in Windows 8 than Windows 7, the difference being that in Windows 7 most are obvious whereas in Windows 8 many are not.
With Windows 8, I think Microsoft was trying to please all of the people by starting off from a more basic position and allowing for a wider range of personal configurations. Trouble is, Windows 8 doesn't come with a manual letting the user know how all these menus can be made available.
Adding shortcuts to the administrative tools is just another example, it's actually very simple but only when you know how. If you didn't know about it, or hadn't already read the information on a tech site somewhere, you probably wouldn't be aware it was even possible.
Of course, any individual administrative tool can easily be accessed by searching for its name on the Start Screen, but it's a lot more convenient to have shortcuts to all admin tools grouped together in one place… here's how:
*NOTE: You have to be in the Start Screen for this to work.
From within the Start Screen, access the Charms Bar and select Settings. Or simultaneously press the Windows + I keys.
Now, click on Tiles under "Settings" and you will see the following menu: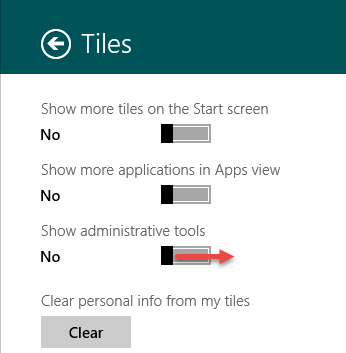 Now use your mouse to move the slider under "Show administrative tools" to the right until it says Yes.
That's all there is to it, and you'll now see shortcuts to all your admin tools grouped together in the All Programs section of the Start Screen:
If you want even quicker access to your most often used admin tools, simply right click the shortcut and select Pin to Start.