Print What You Like is a free online service which allows users to select and print only that part (or those parts) of a Web Page they actually want. Simply copy and paste the required URL into the dialogue box and click on the Start button:

The submitted page will be displayed almost immediately with the PWYL menu on the left hand side and minus all ads. Now you can just move your mouse cursor around the loaded page to highlight certain sections, a single left click in a highlighted area will bring up a simple editing menu with options including Isolate, Remove and Select More: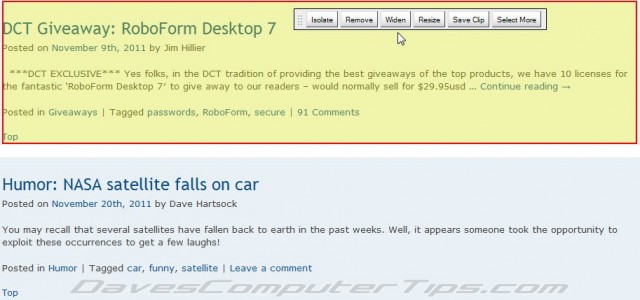 Once you've collected all the segments you need, just hit the Print button and away you go. Now I realize there are other methods for achieving similar results; browser add-ons, and good old copy & paste just to name a couple, but I really enjoyed playing around with Print What You Like and I can see it being very a very useful addition to one's list of online services.
Oh, and there is a Bookmarklet available on the PWYL home page which can be dragged and dropped into your bookmarks toolbar to provide direct access to the edit/print screen.