MP3 tools… the kind that rip, convert, merge and split… are plentiful as stand-alone applications but it's rare to come across them all integrated into a full suite – and especially for free. That's exactly what 'MP3 Toolkit' offers; a complete set of free powerful tools to perform just about every operation required for audio files.
MP3 Toolkit is a free and powerful Windows app includes MP3 converter, CD ripper, tag editor, MP3 cutter, MP3 merger and MP3 recorder for users who want to handle MP3 files easier.

Besides standard MP3 format, MP3 Toolkit supports most of popular audio & video formats like WMA, WMV, MP4, WAV, OGG, FLV, MOV, M4P, M4A and more, also supports high quality audio like FLAC and APE. With MP3 Toolkit, you are able to convert, cut, merge, rip and record MP3 free.
You can use MP3 Toolkit to convert audio for mobile devices, make ringtones, fix tag information, rip Audio CD, record sound or merge audio pieces to a complete MP3 file.
MP3 Toolkit is a modest 10.5MB download, the execute file scans 100% clean through Virus Total and installation is clean without any bundling or nasty surprises. The main interface is so simple and effective it is pretty much self-explanatory. Hovering the mouse cursor over each tool listed down the left hand side reveals a preview window including a brief description:
Clicking on a tool opens the interface specific to that tool. As you can see there are 6 tools in all, let's take a look at the main ones:
MP3 Converter will convert audio files into various popular formats, including batch conversion. You can add individual files or complete folders using the corresponding buttons across the top menu bar. You can also extract audio from popular video formats such as AVI, FLV and MP4: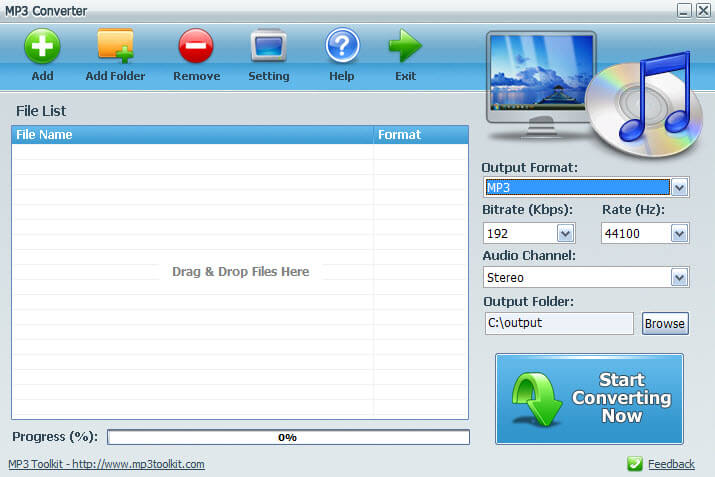 MP3 Merger provides settings to configure, rationalize and merge tracks – simply import your files, apply your desired settings and hit the "Merge" button: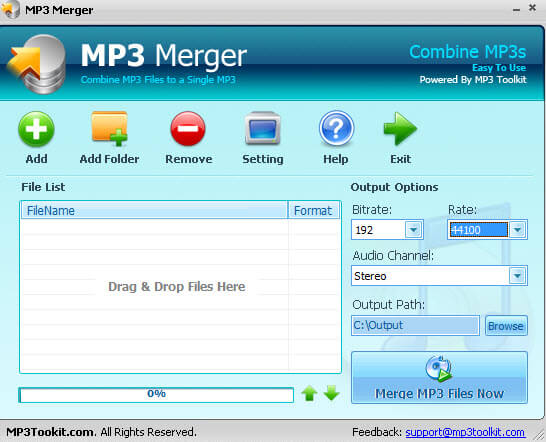 MP3 Cutter allows you to split and cut audio files – very useful for creating personalized ringtones – "Using MP3 Cutter to make ringtones is a good choice. It can cut a specific time audio piece from a song. It also has the ability to cut a part of music from a video file, or a movie."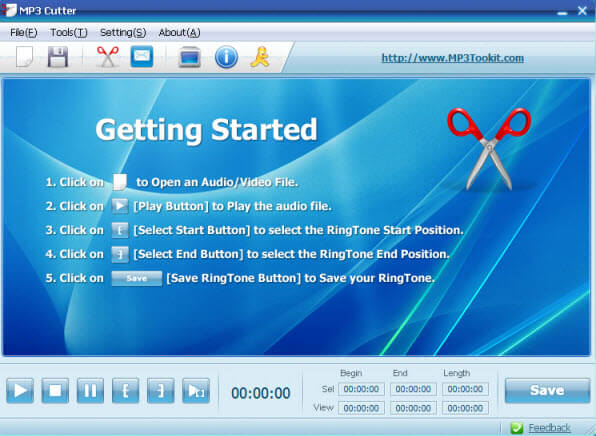 MP3 Recorder allows you to record and save audio output in MP3 format – "Record any sound from your microphone directly to standard MP3 format, and no length limitation. If your sound card supports analog, you can record the stream audio also."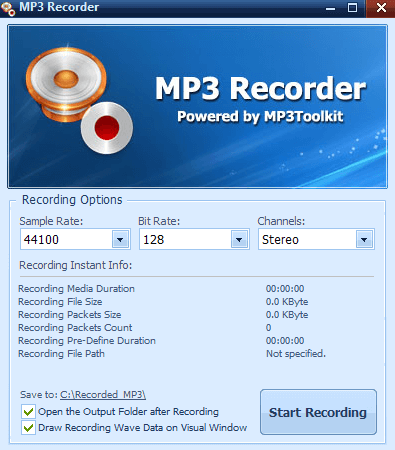 Throw in the CD Ripper and Tag Editor and you have a full set of audio tools in one powerful application.
Popular formats supported by MP3 Toolkit include:
Input

Formats: AAC, AC3, AMR, ASF, APE, AVI, FLAC, FLV, MP4, M4V, M4P, MOV, M4A, MP3, MPG, MTV, OGG, RM, WAV, SWF, WMV, WMA

Output

Audio Formats: MP3, AC3, AAC (Apple Audio), OGG, AMR, WMA, FLAC, APE, WAV, MPG (Audio)
As you can see from the screenshots, everything is very straightforward and easy to understand and use – in fact it's one of the most user friendly setups I've come across for this type of software. Plus, of course, there is the huge advantage of having all those tools accessible from within a single application and interface.
MP3 Toolkit HOME PAGE
Download from FreewareBB HERE