30 million. 5 million. 1 billion. 18. These are the big numbers circulating around the net's news sources discussions of Instagram this past week.With a long-awaited, and hotly-debated roll out on Android devices last week, and the announcement yesterday that Facebook plans to buy Instagram for a cool 1 billion dollars, Instagram is on the news, on everyone's minds, and on millions of new handsets. Let's consider this post as a sort of meta-review of everything that's going on with Instagram right now. And as a bonus, I'll include a gallery of the 18 pictures I took with Instagram during my first 5 days with the new Android app.
(For the uninitiated, Instagram is a photo taking and sharing app for iOS and Android devices that lets users capture photos, apply filters and effects to their pictures on the fly, and instantly upload the photos to Instagram's own social network, as well as twitter, facebook, tumblr, flickr, and other web services of your choice.)
Instagram Announced for Android, iOS users remorse
When Instagram announced the availability of their Android App on April 3, twitter blew up with a lot of praise and hate. Many Android users exclaimed their excitement for finaly getting an invite to the cool party, while hoards of iOS users sulked and pouted about the "gross" Android kids trying to hang with the in-crowd. In the couple short years that Instagram has been available for iOS, it has amassed nearly 30 million users. And now that they have added Android compatibilities, this number will only rise, and likely very quickly. Though as I stated before, many of Instagram's iOS users are "disgusted' that the app is no longer exclusive to their ecosystems. Here are a few twitter reactions posted to BuzzFeed, as you can see, some people are rather explicit in their distaste for Android Instagram.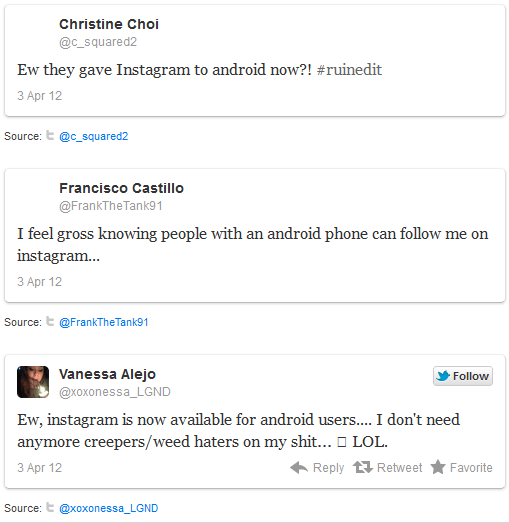 Instagram downloads on Android top 5 million in 6 days
Though all the hate did nothing but improve the number of early adopters of Instagram on Android. Some early reports expect the number of Android and iOS Instagram users to be relatively even by the end of the year, and the first download figures are a staggering indication that it may be quite possible. The Next Web reports that in just 6 days since its release on the Google Play marketplace, downloads for Instagram topped 5 million, after reaching 1 million in its first 24 hours of availability. From their article:
Soon after launching on Google Play, Instagram was seeing 2,000 sign-ups a minute. The impact this had can be seen on the download graph below, which dipped shortly after launch as the initial demand subsided.

Today's milestone is shown on Instagram's Google Play page, which now registers downloads between 5 million and 10 million:
Facebook announces plan to buy Instagram for $1 billion
The timing couldn't be better, and it makes  you wonder if this has been in the works for a while now. After being debuted on Android, and opening the door to tens of millions of potential new users, Instagram was beginning to blow up in a big way. Facebook took notice, and decided to snatch up the network before it grew into a behemoth in its own right. Now, Facebook doesn't have to compete with the social network of Instagram, but rather, may even incorporate it into Facebook's photo capabilities. Who knows where Facebook will take this thing? Though everywhere you look on the web, people are voicing their opinions and giving their advice on how Facebook will ruin the app and social network. After all, Facebook has a history of shady privacy and content ownership privileges, and many Instagram users seem to consider their photos as their own personal artwork and property.There is also some concern that Facebook may integrate Instagram too much, thus killing its social networking and image filter capabilities. Many people have began threatening to leave Instagram, or take their photos to another place. Some have even given instructions for how to migrate your Instagram photos. No matter how you slice it, it seems that people are generally against this acquisition, and though the deal won't be final for months, I fear it may be too little too late. Here is the Mark Zuckerberg's Facebook post explaining the deal:
I'm excited to share the news that we've agreed to acquire Instagram and that their talented team will be joining Facebook.

For years, we've focused on building the best experience for sharing photos with your friends and family. Now, we'll be able to work even more closely with the Instagram team to also offer the best experiences for sharing beautiful mobile photos with people based on your interests.

We believe these are different experiences that complement each other. But in order to do this well, we need to be mindful about keeping and building on Instagram's strengths and features rather than just trying to integrate everything into Facebook.

That's why we're committed to building and growing Instagram independently. Millions of people around the world love the Instagram app and the brand associated with it, and our goal is to help spread this app and brand to even more people.

We think the fact that Instagram is connected to other services beyond Facebook is an important part of the experience. We plan on keeping features like the ability to post to other social networks, the ability to not share your Instagrams on Facebook if you want, and the ability to have followers and follow people separately from your friends on Facebook.

These and many other features are important parts of the Instagram experience and we understand that. We will try to learn from Instagram's experience to build similar features into our other products. At the same time, we will try to help Instagram continue to grow by using Facebook's strong engineering team and infrastructure.

This is an important milestone for Facebook because it's the first time we've ever acquired a product and company with so many users. We don't plan on doing many more of these, if any at all. But providing the best photo sharing experience is one reason why so many people love Facebook and we knew it would be worth bringing these two companies together.

We're looking forward to working with the Instagram team and to all of the great new experiences we're going to be able to build together.
My Insta-impression of Instagram
When the app was an iOS exclusive, I behaved the same as many Android users, subtlly slighting the app and service on forums and comment threads while secretly wishing I could join in the fun. As soon as I heard that Instagram was available for my Android handset (before it even hit Google Play), I found a link online to download the app to my device. I had to make room, as it was a rather large app (sorry Google+, but you just aren't doing it for me yet). After an update or two, it's now working smoothly and taking up more and more of my time each day. Instagram has everything a great app should: wonderful design, great ease of use, original (ish) functionality, and a wonderful social interaction component. It's free. It's great. Go get it now. Here are the photo's I've captured so far: