A woman called me because people were sending her recorded sound clips on Facebook and she wanted to know how to do it. I had no idea. So I went online and didn't find much. It seems to be a new feature and I was beginning to think that it was only available through an App on a smart phone.
So I went on Facebook to click around. That's where you learn how to use it. 🙂 Here's what to do:
Sound Clips With Facebook Messenger
Sign in to Facebook and down along the left-hand menu look for the Messenger App.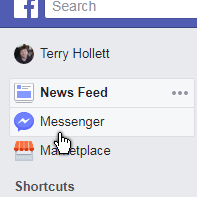 You'll be taken to the Messenger page. Then, again on the left-hand side of the page, you'll notice Search Messenger. Start typing the contact you are trying to reach and click on it when it appears in the list.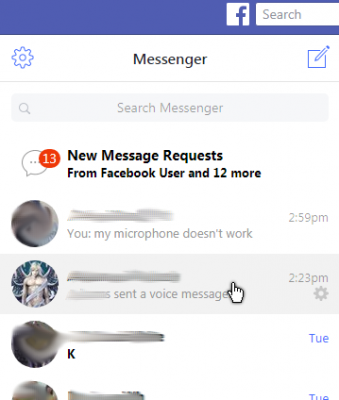 Then, down towards bottom-center where you type your message, look for an icon that looks like a microphone. Click on it. If you put your mouse over it, up pops a message– Send a voice clip.
At this point I should tell you that you'll need a Microphone of some kind hooked up to your computer. I have one only to discover it doesn't work. If you have a built-in web cam on your laptop, that should work, too.
Up pops a big red record button. Click on it and start talking. It will start recording.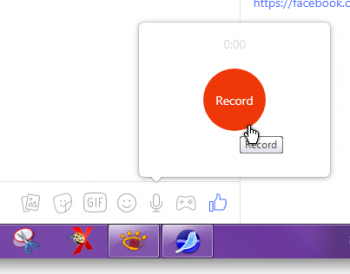 I don't know what the time limits are, but you might want to keep the message short. When it's recording you'll notice the timer above the red button. Also the button has changed with a white square in the center. When finished recording, click on the button again. This automatically embeds it and sends it through Messenger.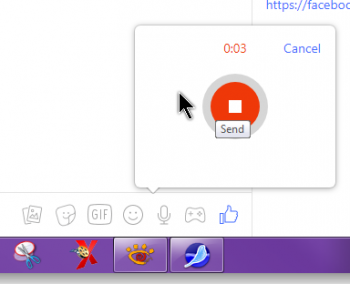 The end result at your end will look something like this:
You can click on the play button to hear how it sounds. Your contact then just has to do the same when they receive it.
If you get a prompt asking if Facebook can access your Microphone, allow it.
If you have problems sending it, try cleaning out the cache files in your browser. Facebook keeps changing things, so these instructions work as of 9:16 AM March 12, 2018.
—