Aomei Backupper is so simple to use it probably doesn't require an elaborate guide, however, I wanted to show less experienced users just how easy this process is in the hopes of encouraging more to take advantage of this ultimate fail safe – creating full system images. Creating and saving full system images will allow you to quickly and easily restore a badly infected or broken system back to full working order, even when the system won't boot.
For this guide, we'll be using the free edition – Aomei Backupper Standard.
System Image Backup: What You Will Need
Aomei Backupper Standard of course, which is available direct from the developer here: free backup software
Somewhere to store the backup – an external USB drive is perfect.
*Under the default "Normal" compression setting, your system image will consist of a file size around 60% of the total used space on the drive. For example, if the total used space on your system drive is 80GB the image file size will come in at around 50GB.
System Image Backup: Preparations:
Prior to creating an image it's not a bad idea to clean up the system using either Windows native Disk Clean-up tool or something like CCleaner.
Also scan the system with something like Malwarebytes Anti-Malware to ensure you are not taking any existing malware along for the ride.
Connect your external USB hard drive.
Boot into the operating system you want to image and run Aomei Backupper.
Creating a System Image Backup
Aomei Backupper's interface is simplicity personified with the three main functions – Backup, Restore, and Clone – clearly labeled down the left side menu. In this case you'll need to select Backup and then from the "Backup" menu select System Backup: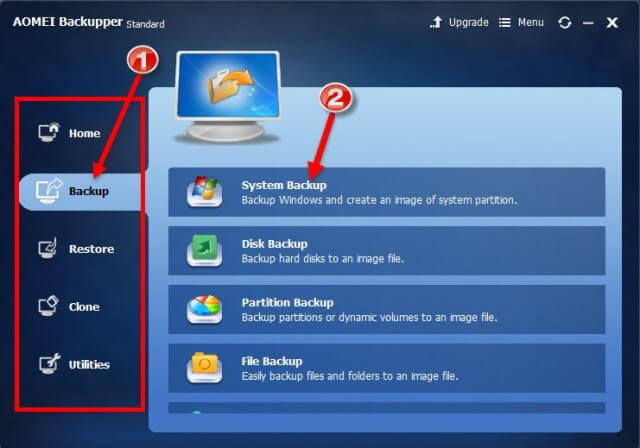 Your system drive, including all associated partitions required for a fully bootable operating system, will now be automatically selected for you (source), no need to worry about identifying which drive or partition (if you have multiple drives/partitions). And the connected USB external drive will also be automatically recognized and selected as the destination (where the image will be stored):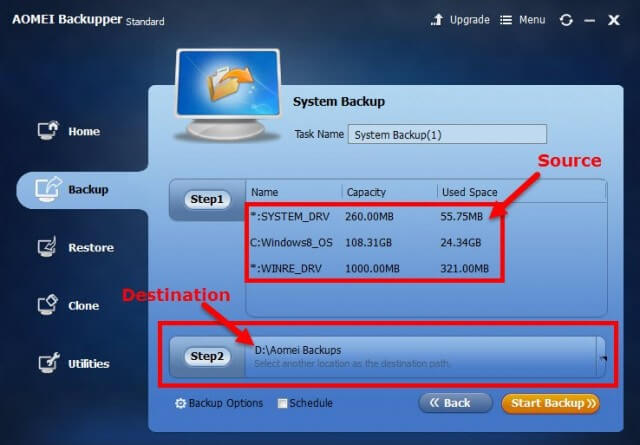 If, for some reason, you want to change the destination location, click anywhere inside the box and a file browser window will open. Just browse to and select your preferred location. Now click the Start Backup button and guess what… you're all done. Yep, that's all there is to it.
In the final window you will see two options at the bottom of the interface. To help ensure that there are no problems with restoring the image, I recommend enabling the option to Check backup integrity on completion.
Creating Bootable Media
Bootable media is required for those occasions when you need to restore an image to a drive where the operating system is unbootable or non-working – what is commonly known as disaster recovery. Aomei Backupper provides this feature under its Utilities menu – before proceeding, make sure you have either a blank CD/DVD in the optical drive or an empty USB flash drive connected: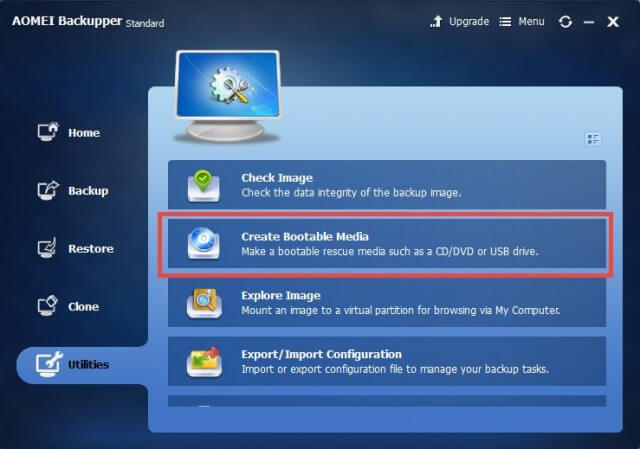 Click Create Bootable Media and you'll be presented with two options – either Linux based or Windows PE based: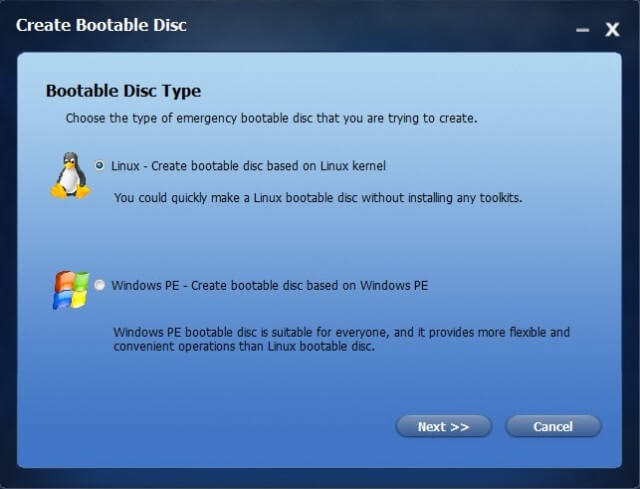 Select whichever you'd prefer – Windows PE is probably the preferred option but Linux based might be simpler and will suffice for most users – then click Next. Now you'll be given the choice between creating a bootable CD/DVD or USB flash drive.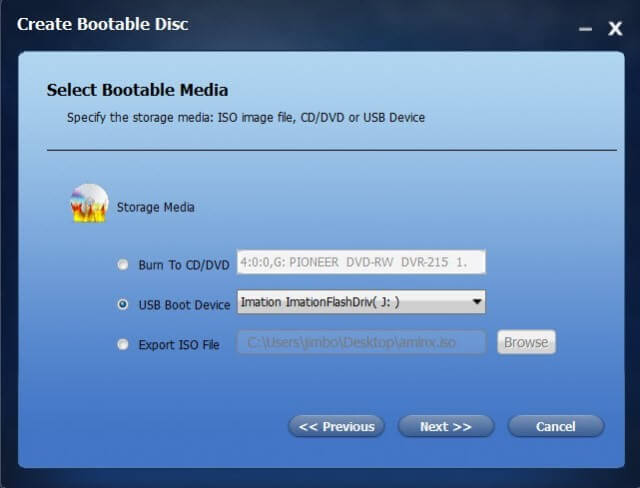 Aomei Backupper will automatically recognize and list any connected flash drives. Just set your preferences, click Next, and Aomei Backupper will do the rest (a Windows PE based USB flash drive has always worked well for me). You should create the bootable media as soon as possible and I also suggest that you test it out straight away to make sure it is working okay.
Backup Options
Default backup settings will be fine for most users, however, you can utilize these options to suit your own preferences if you wish: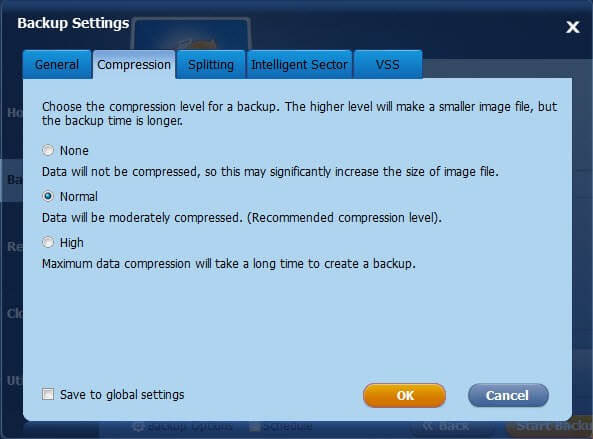 Options include:
Enable encryption: off by default
Set compression level: default is "Normal" and recommended.
Intelligent sector image – used sectors only: default and recommended
Exact backup – sector by sector: off by default
In short, unless you want to encrypt a backup or create a sector by sector backup for some reason, there is no need to touch these settings.
How Often Should Images Be Created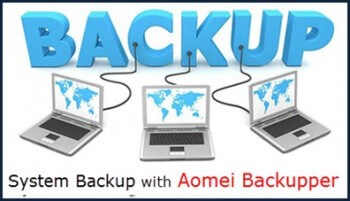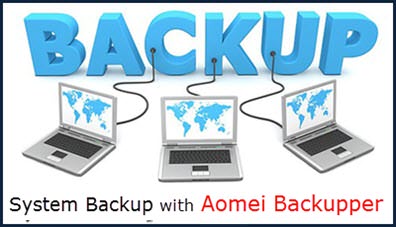 The time span between creating images depends largely on how the computer in question is being used. Obviously, a busy system which is changing often will require more closely timed image backups than a system which is not being used as much and therefore not subject to anywhere near as many changes. Just bear in mind that the longer you leave between creating images the more updates you may need to apply following a restoration and the more personal data you might lose… that is if personal data is stored on the system drive.
I would suggest that anyone starting off with a brand new system should create an image the moment they have finished installing all their favorite programs and have it set up exactly the way they want. This image will then be retained long term as a "base" image, performing pretty much the same function as a fresh install, restore to factory settings, or Reset, except you won't need to go through the laborious process of re-installing programs, setting up and configuring all over again.
From there, I would create a new system image at least every couple of weeks until you have three images stored, excluding the original "base" image. Then, continue creating a new image every couple of weeks while deleting the oldest image each time. That way, you will always have 3 system images to fall back on, the latest being a maximum 2 weeks old. I would also suggest creating a new image following any important system changes – e.g. after installing a new software or any major Windows updates.
This type of scheduling often comes down to personal preferences and different users will see it in different ways but, until you work out your own routine, the 3 image system as described above will stand you in good stead.
Last words… I cannot over-stress how much heartache, downtime, and money can potentially be saved by investing just a little time and effort into maintaining a regular image backup regimen.