Giveaways & Contests
Dave's Computer Tips is working hard to bring top-quality software to our readers. Please note that none of the upcoming contests and giveaways are etched in stone. Changes may be made to this list at any time. Here's what's happening…
Expired!
Winners Announced!
[message type="info"]
This contest has now expired. Winners will be notified by email
Thomas Slobodzian
Richard Schlesinger
David
Yury
John Zatko
Congratulations to the Winners and Thank You to everyone who participated!
[/message]
ASCOMP has generously offered each of our DCT readers a chance to win one of five licenses for their Cleaning Suite Pro software. At the time of writing these licenses for the Pro edition are each valued at $19.90 (US). ASCOMP also offers a free version for private use.
"If the system boots up more and more slowly and the hard drive gets fuller, then it is high time for a thorough system cleaning! But which data can be deleted without risk, which are still needed for the smooth system and program flow? Cleaning Suite gives the answer!" ~ ASCOMP
This giveaway contest has ended but you can read all about it at this ASCOMP Cleaning Suite page.
Running Now!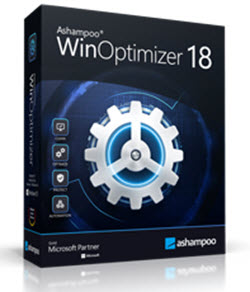 Ashampoo has generously offered our DCT readers a chance to win a copy of its all-new WinOptimizer 18 program. We have five licenses for five lucky winners! Each of these licenses normally costs $49.99 (US) but at the time of this writing, Ashampoo is offering this useful program at a discount price of $29.99.
"The makers of Ashampoo® WinOptimizer 18 have done it again! From handy dashboards with details on essential and always up-to-date information to instant feature access, this already excellent system optimization suite has just gotten so much better! Take the new turbo-charged defragmentation tool that not only puts its predecessor in the shade but comes with a special mode to prolong the lifespan of your SSDs. The always popular cleaning modules have also been fully updated to work flawlessly with all the latest browsers and now detect more clutter than ever before!" ~ Ashampoo
This giveaway contest is running now and will end at midnight on July 23, 2020. You can read all about it and enter to win at WinOptimizer 18 Pro contest page.
Our readers should be well-familiar with this software and understand how handy it can be to have it in your troubleshooting and computer maintenance toolbox. Here's your chance to get a free copy!
Coming Soon!
Our friends at Audials have generously offered our DCT readers a chance to win a copy of their Music Tube 2020 software. Audials has given us five licenses for five lucky winners. Each license is currently valued at $19.90 (US).
"The Windows software makes it possible to browse all music on YouTube, sorted by genres, artists and albums, and to connect with your own music collection." ~ Audials
This contest is scheduled to begin on July 24 and will end at midnight on August 6, 2020. Enter to win this great addition to your software collection.
---
That's it for now. Be sure to visit often so you don't miss these great Contests and Giveaways! And don't forget, there are other informative and entertaining articles posted by our writers during the week as well.
Visit us on:
If you would like to see a specific piece of software promoted as a giveaway contest on DCT, please let us know and we will do our best to make that happen.
DCT
—