In 1904, the Marconi Company established "CQD" as the first International radio distress signal.
Although generally accepted to mean, "Come Quick Danger," it is a general call, "CQ," followed by "D," meaning distress.
Read more about CQD at http://www.telegraph-office.com/pages/arc2-2.html
In 1992, AT&T released the first video telephone.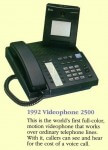 The VideoPhone 2500 was the first full-color, motion-picture video phone that worked in any home. It cost $1,499.
Read more at http://articles.latimes.com/1992-01-07/business/fi-1739_1_video-phone-product