In 1998, the Space Shuttle Endeavour was launched on the first mission to begin assembling the International Space Station (ISS).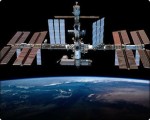 Two days later, the U.S.-built connecting node, Unity, was coupled with the Russian-built control module, Zarya, which means Sunrise, and the space station was a reality.
Learn more at http://www.wired.com/science/discoveries/news/2008/12/dayintech_1204.