In 1896, Harvey Hubbell received a patent for the pull-chain, electric-light socket.
Harvey Hubbell received at least 45 patents and is best known for inventing the electrical power plug in 1904.
Learn more at http://en.wikipedia.org/wiki/Harvey_Hubbell.
In 1950, Steve Wozniak, cofounder of Apple, was born.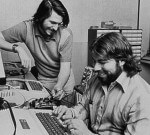 "Woz" and Steve Jobs formed Apple Computer in 1976 and went on to create their first computer, the Apple I.
Learn more at http://www.biography.com/people/stephen-wozniak-9537334.