The Windows Reliability Monitor
A seemingly forgotten but very useful tool that is bundled with the Windows 7 Operating System is the Reliability Monitor.
Have you noticed that your computer has been failing lately in the 'Snappy and Responsive' Department? Let's face it, Windows has its flaws. It is probably to be expected considering its complexity. As time goes by you install and uninstall a multitude of utilities, applications, gadgets, and various other software. Things just bog down after a time. Sometimes things even break in a manner of speaking.
The Reliability Monitor can help you sort out what some of these possible problem sources are.
How to Access the Reliability Monitor
There are a couple of ways to access this useful tool:
Method One:
Click the Start Button
Type: Reliability
Click: View reliability history
Method Two:
Open Control Panel
Choose System
Choose Action Center
In the Maintenance Section, choose: View reliability history
How to Use the Reliability Monitor
Whichever method you choose you will be presented with a window that looks similar to this one: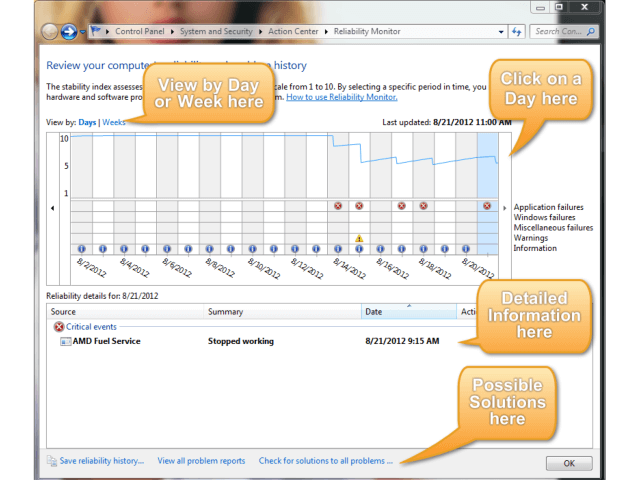 Note: Your window will have different information than mine.
As you can see there is a lot of information provided and several ways to access it.
Once you have clicked on a particular day you will be presented with a list, in the bottom panel, displaying all the errors, warnings, and basic information. There are links available to display more detailed information as well. It's pretty geeky stuff, though, and may not be readily understandable.
Another option is to check for possible solutions. To be honest I have had pretty unfortunate luck with this option. Usually I get a message informing me that a solution has not yet been found. Thanks a bunch, Microsoft! That's OK, I know they're busy.
I have generally had much better luck by using a search engine to find solutions at various forums or web sites. Chances are that if you are experiencing a problem, thousands of other people have had the same dismal familiarity with that situation.
Conclusion
If your computer is running (crawling?) at a pedestrian pace or you are experiencing those dreaded BSOD's it would be helpful to know what services and/or applications are not behaving properly.
The Reliability Monitor is not an end-all solution to the problems many Windows users may face while using their computers. It is, however, a great tool that will guide you toward those solutions. At the very least, you will have a great starting point by pin-pointing some troubles you may not even be aware of.
There are many third-party tools available on the internet that claim to do the same thing but I prefer to use native Windows applications wherever possible. Who knows the operating system better than the ones who wrote it?
Has anyone used this tool? How did you fare? Let us know…