Before we go any further you need to be aware that Freemake's (Free) YouTube to MP3 Converter comes bundled with OpenCandy. OpenCandy is NOT installed on the computer, it merely scans the PC to ascertain what type of recommendations are most suited for the particular user. The general consensus among security experts is that OpenCandy is a benign (harmless) advertizing module which does not change any settings or insinuate itself into the system in any way – a conclusion with which I entirely agree. Of course, the inclusion of OpenCandy does mean that the user needs to be vigilant during the installation process… more on that later.
Freemake YouTube to MP3 Boom – The Software

Convert YouTube to MP3 in seconds with one click. Free instant download – no registration or signup. 100% satisfaction guarantee.

Free, Safe, Always Works – Over 100,000,000 users convert YouTube to MP3 with Freemake. No limitations and no subscriptions. Free YouTube to MP3 converter runs like clockwork and delivers the garanteed result
Powerful Music Search – Search for YouTube music straight in the software. No need to go to YouTube and copy-paste links. Search by title, artist, album, tag. Use smart search suggestions & query auto-corrections
Batch Download Mode – Convert multiple MP3 tracks from YouTube in one click. Save full YouTube MP3 collections by various artists
YouTube Music in High Quality – Get top quality tracks. Free Youtube to MP3 Converter filters music from high to lower quality order
Discover New Hits & Music Charts – Type in #top100, #bestof10years, #trend, #rock, #pop and other hashtags and get music charts, hot songs, best tracks ready to download
Preview Tracks – Play YouTube music before or during download. Use Freemake YouTube to MP3 Boom as a universal audio player to listen to music
Share Music with Friends – Share your favorite music with friends. Post to Facebook, Twitter or email straight from Freemake Youtube to MP3 Boom
Freemake YouTube to MP3 Boom – Download and Usage
Initial download is a 1.2MB executable but a further 9.00MB download will take place during the installation process, after the user has dealt with OpenCandy's recommendations. I see nothing sinister in this, the installer is obviously waiting to assess the user's responses to OpenCandy offers before initiating the actual download. If all offers are declined, then only the YouTube to MP3 Boom software will be downloaded and installed. On the other hand, if a user opts to accept any additional offers, that software will then be added to the download and installed along with the main program.
As I said earlier, users need to be vigilant during the installation process if they don't want to inadvertently install any additional software. I'm happy to say that Freemake has been openly transparent about the bundling, including a reference to OpenCandy in the very first installation window: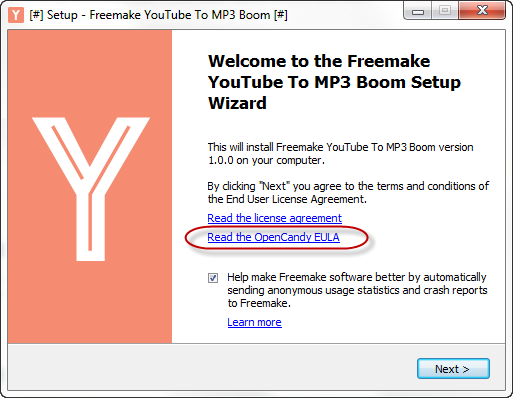 Further windows will then offer additional software but always accompanied with options to decline:
Provided the the user takes care to decline or remove checkmarks relating to additional offers, then nothing extra will be installed.
YouTube to MP3 Boom's main interface is brilliantly simplistic, clean and intuitive. Simply type in a search term and the software does the rest: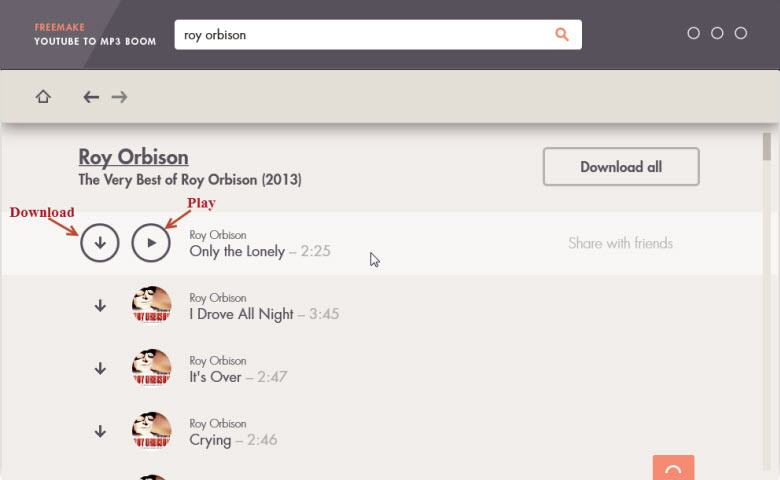 As you can see from the screenshot, each track is associated with a Play (or preview) button, plus an adjacent Download button. I couldn't take a full screenshot of all the search results simply because the list was just too long –  at time of creation there were well over 70 tracks listed and it was still in the process of being populated.
I played back a couple of tracks and then downloaded a couple more, all with no problems whatsoever. The downloads were very quick and the MP3 quality top notch.
The Verdict
Late last year I reviewed a somewhat similar freeware – you can catch up with that review here: 4K YouTube to MP3: Extract & Download MP3 from Video. 4K YouTube to MP3 has the advantage of being portable but doesn't include any search feature and is pretty basic compared to the professional standard of Freemake's software.
If you love your music, and provided you can get past the OpenCandy aspect, I suspect you'll really like Freemake YouTube to MP3 Boom. Recommended!