Free Information
My late Father dabbled in genealogy and my Father-In-Law enjoys genealogy as well. I am continuing where my Father left off and find it very interesting, as do many other people I am sure. Therefore, when I hear of genealogy sites to gather more information, I listen intently.
Imagine my surprise, I had the news on tonight and heard of a site I was unfamiliar with. FamilyTreeNow which boasts of one of the largest collections of genealogy records for 100% free. The report was warning the public that Tweets and Facebook posts have gone viral warning the public that the information on this site includes the age, birth month, family members, addresses and phone numbers for individuals in their system. It also takes a guess at possible associates, all on a publicly accessible page.
I was intrigued, so I checked it out and, wow, was I surprised. They knew the date I was married and the county it was in, as well as other information that some sites actually ask for payment to receive.
Privacy Issues Raised
I can see where this would be a problem if you had a stalker or was a victim of domestic violence and you were trying to keep your location private. I can also see if you were in a profession where your information was sensitive. It could be very dicey to have your information out there for anyone who trolls the Internet.
I conducted a search on the site and there were mixed thoughts from the public. Some folks in the military were happy to be able to reunite with fellow veterans. There were others that were downright irate and appalled that so much information about themselves was out there. It raises a red flag to me about identity theft with the amount of information they provide for no cost. I encourage all of you to check it out and make up your own mind and share your thoughts with us.
If you choose, you can find your own listing and follow the steps to opt out at this FamilyTreeNow Opt Out Page.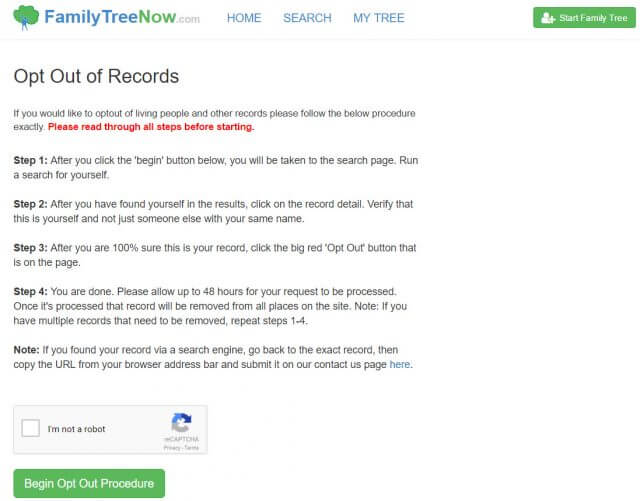 Even if you choose to opt out, there is no tool that will keep your information absolutely 100% safe.  It is up to you to remain vigilant about that.
—