I am always on the lookout for solutions which do not require installation of any additional software… portable is always good, but if an online service is free and effective, that is even better. Sure, there are plenty of software solutions available which provide a means for extracting audio from video clips but here is an online service I came across recently which is not only free but also quick, easy, and effective.
The name of the service is FullRip.net, here is the description as per the FullRip site: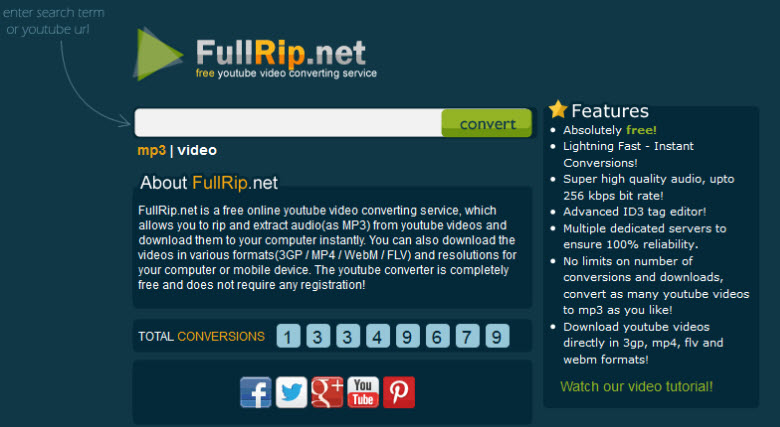 FullRip.net is a free online youtube video converting service, which allows you to rip and extract audio(as MP3) from youtube videos and download them to your computer instantly. You can also download the videos in various formats(3GP / MP4 / WebM / FLV) and resolutions for your computer or mobile device. The youtube converter is completely free and does not require any registration!
**NOTE: Converting video to mobile device formats requires Java.
Converting YouTube video to MP3 audio is child's play using FullRip. The first thing you'll need to do is navigate to the YouTube music video clip you want to convert and copy the URL from your browser's address bar:
Now pop on over to FullRip.net, paste the URL into the box provided and click on the Convert button: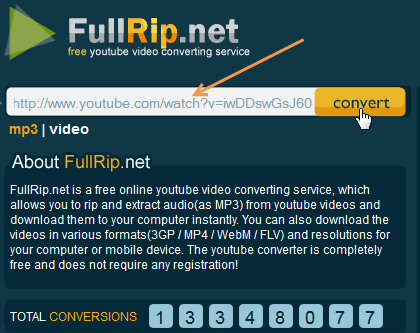 In the next screen you will be presented with quality (bitrate) options as well as imputing further details about the track. Once you are satisfied, just click the Start Ripping button:
The entire process took only around 10 seconds to completion, and I chose a particularly long track. The next screen you will be presented with is the 'download/preview' screen:

Right click on the Download button and choose Save Link As or Save Target As. If you'd like to preview the track beforehand, just click on the play button under "Listen".
(I didn't test the video download/conversion process because I do not have Java installed and don't really want or need it installed, but if  the MP3 conversion is anything to go by, it should be just fine).
MP3 output quality is very good and the whole process is uncomplicated and extremely fast. A great service at a great price (free is great, right?). Another site well and truly worth earmarking.