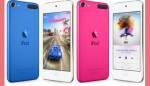 Apple updated its iPod touch line on July 15th.  It has been about three years since the last update.  The only iPod that runs iOS, it sports the same 4-inch Retina display as the iPhone 5 and 5s.
Features of the newest iPod touch include:
Six colors:  blue, gold, pink, red, silver and space gray.
Along with the standard 16GB, 32GB and 64GB, the iPod touch is now available in 128GB.
A8 chip – This was introduced with iPhone 6 and iPhone 6 Plus.
1GB RAM.
Since it ships with iOS 8.4, Apple Music is good to go.
Its M8 motion coprocessor provides fitness tracking ability.
An improved 8-megapixel rear camera.
Bluetooth 4.1 should provide better connections and improved data transfer.
While the popularity of the iPod touch has decreased over the years, it is still considered to have potential as the gateway device to the Apple ecosystem.  iPod touch runs iOS so its buyers can take full advantage of the App Store.  When its time for a new (or first) smartphone, the iPhone often is the device of choice since the buyer has become acclimated to iOS and its accompanying apps.
The new iPod touch is priced from $199 (16GB) to $399 (128GB).  The 32GB model is priced at $249 while the 64GB model is priced at $299.